A few weeks ago, I was back in San Francisco to do a
DONABE Cookbook
dinner event with Sylvan and Kyle at Sylvan's restaurant,
Izakaya Rintaro
. It was a sold-out event and about 120 seatings were reserved!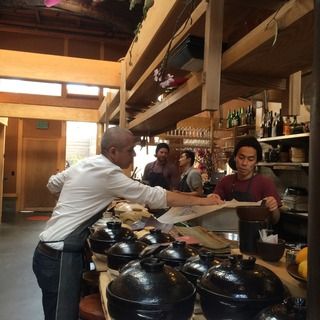 Sylvan kindly invited us to do this collaboration dinner. Since the opening in 1.5 years ago (I was there on the opening night!),
Izakaya Rintaro
has been one of the most popular restaurants in San Francisco. It was also chosen as one of the BEST NEW RESTAURANTS of 2015 by Bon Appétit magazine.
Now Kyle has dozens of our Iga-yaki donabe in his collection for his upcoming
Single Thread Farms
restaurant (slated to open in June 2016), he brought all the donabe for the event! We arrived in the afternoon and helped Sylvan and the team prepping.
The menu was going to be all my recipes from the book. I was so excited that the guests would get to try those dishes.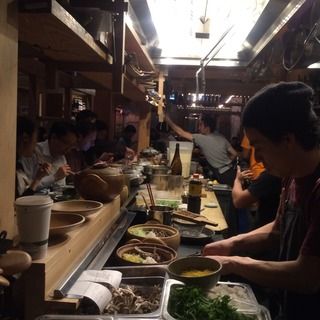 As soon as the restaurant opened, the kitchen was sooo busy. And, it was basically non-stop until the closing.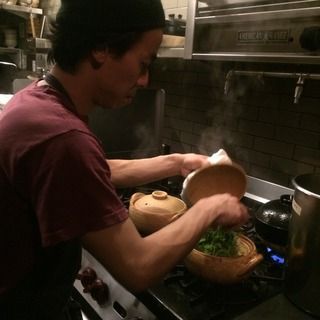 Really busy.
Donabe-Smoked Chicken Tender Salad with baby shungiku (made in
donabe smoker, Ibushi Gin
).
Tofu Chawanmushi (recipe from
donabe steamer, Mushi Nabe
). It was served alongside with Sylvan's spinach shira-ae (tossed in creamy tofu).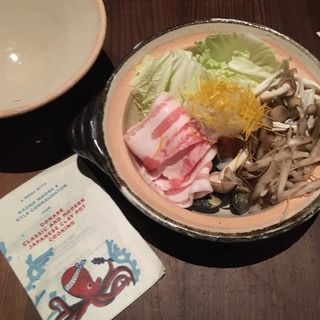 Niigata-style Sake Nabe (recipe from
classic-style donabe
).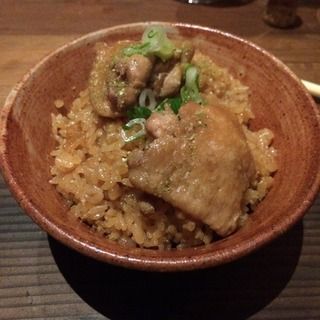 Juicy Chicken Wing Rice (
made in double-lid donabe rice cooker, "Kamado-san"
)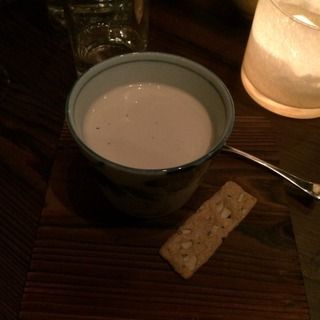 Steamed Roasted Sesame Cake (recipe from
donabe steamer, Mushi Nabe
) ran out before our party was served. So, I didn't get to taste it, but instead we were served tofu pudding (?) and it was very good.
So many people came to celebrate with us and it was a lot of fun! I want to thank Sylvan and the team for hosting such a wonderful event!
(Some of the above photos are taken by Kyle Connaughton:-)