Day 3 in NYC was even colder…it was just around 25F during the day. But, I was getting used to walk around in the freezing weather.
I did some Christmas shopping at
Limelight Marketplace
on 6th Ave/ 20th St. There were some cute shops there.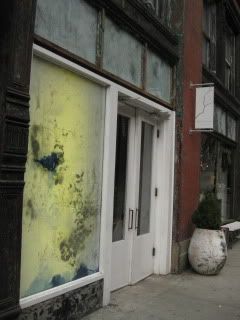 I was on my own for lunch today, so I went to check out
ABC Kitchen
near Union Square. This relatively new place is a casual dining by Chef Jean Georges. I originally wanted to come here for dinner with friends, but when I called last week, I was told that all the tables (for both lunch and dinner) are completely booked for the next few weeks!
The restaurant is located in the back side of ABC Home store. You can walk through this huge home interior store to the restaurant or come around to the side street to get in from a small and rather humble-looking entrance.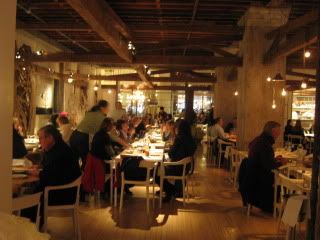 The dining space is very large and very lively. Luckily, I could grab a seat at the bar without wait. First, I ordered their homemade Herbal Root Beer, which was nice and refreshing. I was excited to see their menu. There are many dishes I wanted to try. It's contemporary American made with mostly organic ingredients. I decided to go with the lunch prix-fixe.
Kabocha squash toast…soft cooked kabocha on rye bread with fresh ricotta, caramelized onion, and vinegar. The texture was perfect, and the flavors were so balanced. Very nice start.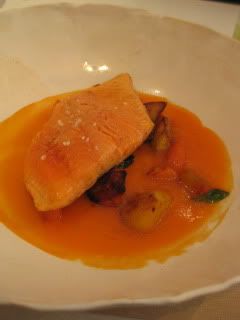 Slow-roasted arctic char with sweet & sour carrot sauce and roasted vegetables. Again, the fish was cooked perfectly, and the quality was so fresh. The sauce had the very nice flavors. I loved this dish.
My choice of dessert was Lemon meringue tart. It was not too sweet, so I liked it.
I really enjoyed the lunch here! Next time, I want to come here for dinner for sure.