Between the trips here and there...these are some wine and food activities I did this past couple of weeks.
One Saturday, I attended a wine tasting event at
Palate Food & Wine
in Glendale. The theme was 2008 Joseph Drouhin of Burgundy. Steve explained 2008 vintage Burgundy is in general similar to 1996 vintage for its distinctive higher acidity.
We started with Meursault, then moved on to Volnay, Beaune 1er Cru, "Clos des Mouches", Vosne-Romanee, Chambolle-Musigny 1er Cru, Musigny, etc. Overall, these wines were very elegant (no fruit bomb) and many were showing wonderfully to drink now. But, those big guns like
Musigny
and
Chambolle-Musigny 1er Cru, Les Amoureuses
were very young and would become more ready and complete in many more years.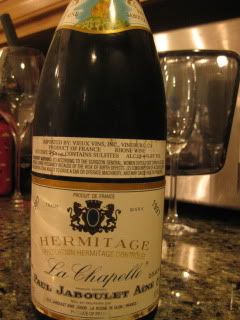 The following day was a dinner with the friends whom I traveled Burgundy with at one of their house. We opened some really nice wines including
1999 Chateau Cheval Blanc
, which was contributed by the generous host! My
1997 Paul Jaboulet, Hermitage "La Chapelle"
was so beautifully at its peak without decanting. I was so happy!
The evening I came back from New York, Jason picked me up at LAX and drove straight to
Barbrix
, which is one of our favorite local hangouts. It was Saturday night and the place was absolutely packed! We ordered several dishes to share and enjoyed with wine. This restaurant/ wine bar always has a great vibe, food is consistently good, and make people happy. I was so happy to be back in LA...especially in the warm weather (above 70's F at night!).
The following day, I attended an annual Christmas party by
Aoyama Gakuin University
Alumni Club! Yes, my university (in Tokyo, Japan) has a LA division alumni club. The party took place at Bistro Beaux in Torrance (the food was good:-) There were people at all ages, and it was great to get connected with them. We all sang the school song at the end of the party!