I made a couple of dishes for a potluck dinner. These are good at either warm or room temperature after a few hours of cooking.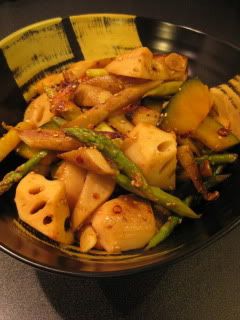 Steam-fried root vegetables in "kurozu" vinaigrette.
I made this dish with the tagine-style donabe, "Fukkura-san". Here's the quick recipe:
1. Cut 10-12 oz lotus root and 1 gobo (burdock root) into oblique and soak in water for 15 minutes. Drain.
2. Sauté the above ingredients with 1 tablespoon olive oil in the skillet of Fukkura-san for a couple of minutes.
3. Add 1 tablespoon water, cover, and steam-fry over medium-heat for 10-15 minutes or until they are crisp tender. Add more water if necessary meanwhile.
4. Meanwhile, prepare the vinaigrette. Whisk together 1/4C kurozu (Japanese black vinegar), 2 tablespoons soy sauce, 2 tablespoons sesame oil, and 1 teaspoon sugar in a small bowl. Set aside.
5. Add some kabocha pumpkin slices, then some asparagus after a few minutes of kabocha. Let it continue to steam-fry for a couple of more minutes.
6. Turn off the heat and let sit for a few minutes.
7. Toss in the prepared kurozu vinaigrette with some toasted white sesame seeds and sliced dry chili.
This dish is great at any temperature. I like it next day, when all the flavors are absorbed by the ingredients, too. You can make it slightly crunchy or cook to very tender according to your preference.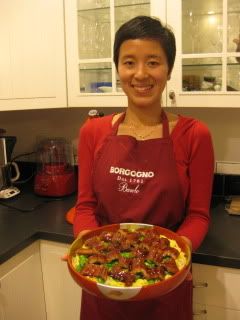 Then here's my regular
unagi chirash sushi
(BBQ eel scattered over sushi rice). The sushi rice tastes special because it's made with the
double-lid donabe rice cooker, "Kamado-san"
. At home, I normally decorate the dish right in the donabe, but when I bring it to potluck, I can do it in a shallow bowl so it's easier to travel. You can find the recipe on
toiro
's website
.
Happy donabe life.