After less than 3 months since my last trip, I returned to New York last Wednesday for a few days. The weather forecast said it was going to go above 80F in LA that day, while the highest in NYC was merely 32F…so I had to be prepared for the freezing weather!
Despite the cold temperature, the sky was so clear and beautifully sunny when I arrived at JFK Airport in the afternoon. I was very excited for my another culinary adventure in NYC in the next few days. This time, I rented a cute little apartment room in Chelsea.
On the first night, I met my girlfriend who just moved to NYC from Tokyo in October. We went to the same high school and university. She moved with her husband who was transferred to NYC by his company for 18 months. We met at
Kajitsu
in East Village. Yes, I was there
last time
I visited NYC and couldn't wait to come back for another Kyoto-style shojin (Buddhist-style vegan) dinner! They were recently awarded with Michelin 2 stars 2 years in a row.
We had the seats at the counter in front of the executive chef,
Nishihara-san
(I had the same seat as the last time). Just like the last time, we ordered "Hana" course, which is their extensive seasonal tasting course. We also had some nice sake, including Junmai Oyama from Yamagata. Here are the very seasonal December dishes we had…
Grilled Walnut Sesame Tofu with wasabi and soy sauce.
Vegetable Pot-au-feu Soup with Yuzu…rutabaga, cabbage, green peas, kintoki carrot, cherry tomato, Yukon gold potato, rice paper, cipollini onion.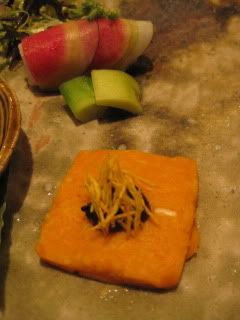 Grilled Kabu Turnip with Sake-Kasu Sauce with tiny turnip and turnip leaf.
Butternut Squash and Couscous Cake with Black Miso Sauce and pine nuts.
Daikon Sushi…black daikon, watermelon radish, frisee, pickled green daikon.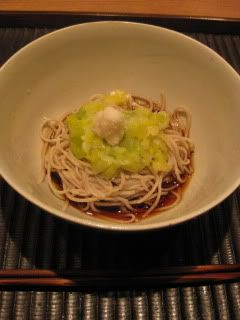 Nama-fu Tempura with Azuki Bean Sauce…pumpkin fu and yomogi fu (wheat gluten).
House-made Soba with leek, grated radish, scallion, horseradish.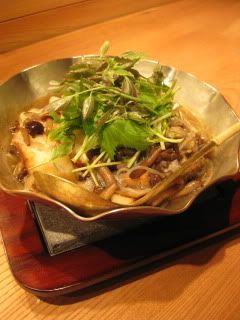 Vegetable hot pot with Kiritanpo…maitake mushroom, taro, nappa cabbage, nametake mushroom, burdock root, mizuna, mitsuba, yam noodles.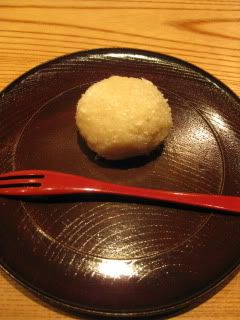 Snow ball mochi, filled with strawberry and white bean paste.
Matcha tea served with candies by suetomi, Kyoto.
Dish after dish, it was like an art show for all your senses. Each dish was absolutely gorgeous by look and palate. I was equally wowed by the dinner experience this evening just as the last time.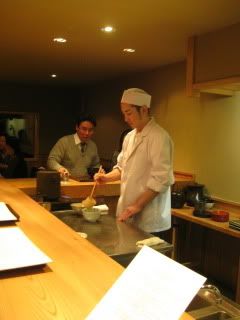 This was the true special treat. I'm always so amazed by the chef. He's a super-talented chef, and he's always so humble and brings the warmness to the guests.
I can't wait to go back to Kajitsu next time!