Since Jason was going to work until very late, I had dinner alone at home this evening. So, I made this very quick easy kurobuta pork belly "sukiyaki" dish with my tagine-style donabe ("Fukkura-san"). Once I have the ingredients prepped, it takes very shor time to cook!
I got the relatively thick slickes of kurobuta pork belly. The aroma from simply sauteing the onion and the pork is really wonderful.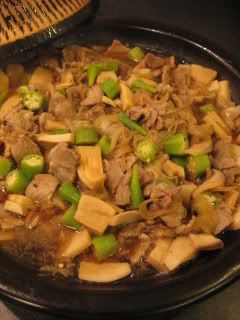 After stirring the ingredients and adding the sauce (dashi, sake, soy sauce), I steam-fried with the lid on for about 5 minutes.
Just the simple ingredients out of the fridge...pork, onion, king oyster mushrooms, okra, konnyaku shirataki...made this great hearty dish.
The basic recipe of my sukiyaki can be found on
toiro's website
. So, please check it out!