Another very warm evening in LA. We set up our donabe steamer in our patio table, and did the "steamy" dinner again.
I had many extra shumai (shaomai) wrappers, so I made Kurobuta Pork Shumai. I also prepared tofu, shiitake, okra, and our home-grown cherry tomatoes to steam for appetizer.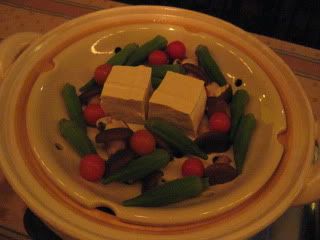 Just the simple steaming method is the best way to enjoy these wonderful ingredients! We had these with my homemade black sesame sauce.
Then, we steamed the Kurobuta pork shumai dumplings and had them with the black vinegar & soy dipping sauce, and Japanese hot mustard.
The rice was, of course, cooked with the donabe rice cooker, "Kamado-san". It was so fluffy and flavorful.
Donabe life is so much fun and so healthy. For more information about the premium Iga donabe and donabe recipes, please check out
toiro's website
.