As I was so impressed by Chef Sal's heirloom tomato gazpacho at Il Grano the other night, I tried to memorize the taste and wanted to recreate it at home in my own way.
So, I picked up some really beautiful heirloom tomatoes from Sunday Hollywood farmers' market and and made a very simple version. My rustic version gazpacho came out so perfect that I loved it as much as Chef Sal's!
The most subtle yet biggest difference is that I let the gazpacho chill in the
soup & stew donabe, "Miso-shiru Nabe".
First of all, with the thick clay body of this donabe, once it's chilled, it can keep the soup cold for a while after it's taken out of the fridge. So, it's perfect for the table-top service outdoor.
Another great thing about this donabe is the effects from its natural minerals. The glaze of this donabe contains the natural radium minerals, which release the "negative ions" to the ingredients inside of the pot.
In Japan, "negative ions" have been a very popular buzz word (In Japanese, we call it "minus ion") for last several years, and from the cookware to air-conditioner to accesories, many products are promoted as featuring the "negative ions" effects. Negative ions are natural molecules which can be found in the atmosphere especially in nature such as mountains and falls. Some onsen (hot springs) also contain the high concentration of negative ions and is considered to give the better healing effects to your bodies. Although it's yet scientifically proven, various studies report the negative ions bring the health benefits.
So, after chilling the gazpacho in this donabe ("Miso-shiru Nabe"), to me, the soup taste like it added the subtle minerality in the flavor and also my body feels better with the "negative ions" effect. Maybe it's just psychological, but it works for me anyway!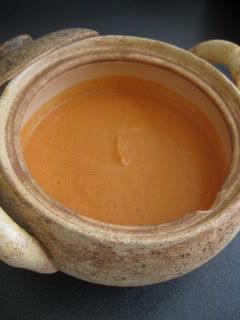 My recipe is extremely simple, I just put all the ingredients in a blender and transferred to the donabe.
Rustic Heirloom Gazpacho
Ingredients
1.5 pounds ripe heirloom tomatoes
1 small (golf ball size) sweet onion
1/4 red bell pepper
1 1/2 slices of wheat bread
small squeeze of lemon
small splash of tobasco
about 1/2 cup of olive oil
salt and pepper to taste
Procedure
Cut the vegetables into cubes.
Put all the ingredients in a blender and blend until very smooth.
Transfer the soup into Miso-shiru Nabe, and let it chill in the fridge for 2-4 hours.
Serve with a drizzle of basil puree. (I made it with basil leaves, garlic, anchovy filet, almond, olive oil, salt and pepper)