I got together with wine friends for the famous "Tomato Wednesday" at
Il Grano (11363 Santa Monica Blvd., West LA)
. Chef Sal grows 40+ kinds of organic tomatoes and offeres a wide range of tomato-featured menu every Wednesday during the tomato season. The dishes created by Chef Sal, who just returned from his trip back to Italy, are the authentic modern Italian with seasonal ingredients.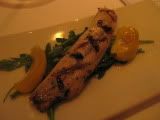 We started with heirloom tomato gazpacho. It was so delicious and one of the best gazpacho I'd had. We also had two kinds of pizza, and grilled Japanese sardine. Sardine was so nice that I was craving for a bowl of donabe rice to go with it!
Then, there was a "candy wrap" ravioli, which is actually mozzarella inside of the pasta. Very nice. I loved the salad of Dangeness crab, corn, heirloom tomato, etc., too.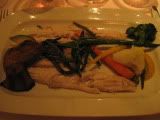 My main course was the salt crusted oven-baked whole branzino. A waiter broked the salt to show the baked fish at the table side. The fish was so delicate and juicy.
We had some nice wines tonight! The theme was free for all.
1997 Dr. Burklin-Wolf, Forster Jesuitengarten, Trocken (magnum bottle)...
This is B-W's "Grand Cru" vineyard. Light golden color. Coconut, vanilla, spice on the nose. Sharp fresh acid with the round palate. Long aftertaste of vanilla and butterscotch. It's "trocken" but I tasted some residual sugar. Really wonderful.
1996 Albert Boxler, Alsace Grand Cru, "Brand", Riesling...
Dust, honey, spice and mineral on the nose. Mid+ acidity. Apple sauce. Clean.
2003 Domaine Leflaive, Puligny-Montrachet 1er Cru, "Clavoillon"...
This was my wine and it was unfortunatelly corked! I think it was actually slightly corked but very off by something else. I could smell or taste any fruit. It could have been a wonderful wine to pair with the dangeness crab. Boohoo.
2005 Didier Dagueneau, Blanc Fume de Pouilly...
It's been almost a year since Mr. Dagueneau's tragic death. Dramatic contrast, compared to his Pur Sang or Silex. Perfume and young fruit, green aroma. Mild acid. Asparagus. I also suspect there was a hint of volatile acidi in this particular bottle.
2006 Simon Bize, Savigny-les-Beaune 1er Cru, "Aux Vergelesses"...
Ruby color. Young berry, subtle earthy character. Smooth palate is finished with the young tannins. Lovely.
2001 August Kesseler, Spatburgunder, "Cuvee Max" (Rheingau)...
We tasted this blind. When I first smelled it, I thought it was Barolo! Dusty nose, old books, very smooth palate with brown sugar and cherry.
2004 Camerano, Barolo, Cannubi San Lorenzo...
Single vineyard. Dry berry, spice, young tannin. Rich palate and long finish.
2003 Poggiotondo, Brunello di Montalcino...
Rich and modern-style. When I first smelled it (blind), I thought it was maybe Super-Tuscan with a blend of Cab. Chocolate, dark berry, juicy palate, and dry tannins. Very rich.