The weather has been pretty cool this summer. It was almost chilly tonight, so I thought it would be a good idea to make a hot soup with the wonderful summer ingredients.
It's a rich creamy soup, but this soup is not heavy at all! No heavy cream is used. The creamy texture comes from the
soy milk
and kabocha itself. As a guilty pleasure, I used the butter to saute the vegetables, but you can substitute it with the olive oil if you want to make it the complete vegan dish.
I posted the full recipe on
toiro
's website
very soon. So, please check it out.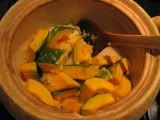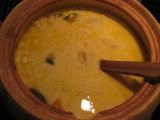 For this recipe, I used the soup & stew donabe, "Miso-shiru Nabe". This donabe cooks to the deep core of the kabocha, so once the broth starts simmering, it just continues to make the taste deeper and deeper. The kabocha and onions make the wonderfully creamy textue with the nice light crunch of the corn.
Thank you, my donabe!