Including myself, Japanese people love eating curry or curry-flavored food in the summertime. The spicy kick from the curry helps to energize our bodies in the hot weather. You will probably see many more curry postings in my blog by the end of the summer.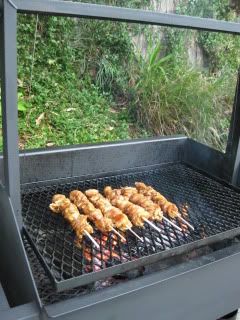 With our most beautiful Santa Maria BBQ Grill, we cooked Curry Yakitori. I played around the ingredients and it came out super delicious.
Curry Yakitori (Curry-flavored Chicken Skewers)

Ingredients
(Marinade)
6 tbsps. soy sauce
1 tbsp. yuzu jam or marmalade
1.5 tbsp. honey
2 teaspoons curry powder
1 teaspoon cumin seeds
1/2 teaspoon cayenne pepper (optional)
2 cloves garlic, grated
1 tbsp. grated ginger
black pepper
2 lbs. boneless skinless chicken thighs, cut into cubes
6 long skewers, soaked for 15-30 minutes before using
lemon wedges and cilantro
Procedure
In a bowl, mix the ingredients for marinade with a whisk.
Combine the chicken cubes and the marinade in a ziploc bag and tightly seal. To be safe, double-bag the ziploc is recommended.
Let the chicken marinate in the fridge for 2-6 hours.
Skewer the chicken and grill over charcoal until done.
Serve with lemon wedges and cilantro.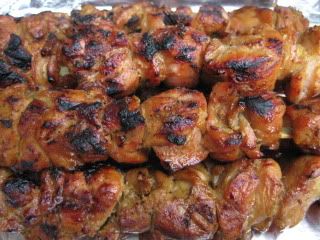 I served the chicken with the multi-grain rice, grilled corn, and our regular roasted fingerling potatoes with
Fukkura-san (tagine-style donabe).
This time, we had the potatoes with pesto mayo (I mixed the mayonnaise with my homemade pesto), and it was great, too!