I made a salad with the cauliflower and some summer ingredients.
The key to this dish is that I steam-fried the cauliflower with the tagine-style donabe ("Fukkura-san"), instead of boiling. By cooking the cauliflower with this donabe, the intense steam-fry brings out the nice flavor of it and the texture becomes really wonderful.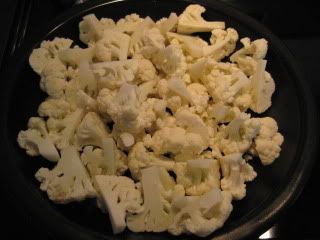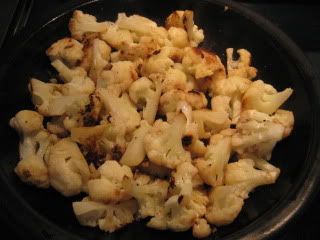 With the olive oil, I first cooked the cauliflower with the floret sides down over medium-high heat without the lid. Once the floret sides is nicely browned, i sauteed them and poured 1/2 cup of water, closed the lid, and steam-fried until the cauliflower is cooked through (about 5 minutes). Turn off the heat and let rest (with the lid on) for 5-10 minutes. Here's the full recipe.
Steam-fry Cauliflower Salad

Ingredients
1 head cauliflower, cut into bite-size pieces
2 heirloom tomatoes, cut into wedges
1 ear corn
some chives, minced
(Dressing)
1 teaspoon lemon juice
1 tablespoon red wine vinegar
1 small shallot, sliced crosswise thinly
1 anchovy filet, minced
1/2 teaspoon red chili flakes
1/2 teaspoon cumin powder
1 teaspoon dried oregano
3 tablespoons olive oil
salt and pepper to taste
Procedure
Combine the ingredients for the dressing and whisk well.
Cook the cauliflower florets as described in the above.
Grill the corn and scrape kernels off the cob with a knife.
While the cauliflower florets are still hot, toss them with the dressing.
Add the corn, herloom tomatoes, and chives, and toss again.
The donabe steam-fried cauliflower really makes the difference!