Ratatouille tastes so great in the summertime. To serve with my simple salted salmon brown rice, I cooked the ratatouille with the tagine-style donabe, "Fukkura-san". With the far-infrared radiation and the outstanding steaming effects, I can make this simple dish so delicious without adding any liquid (besides the olive oil to saute the vegetables)! It's the dome-shaped porous lid (looks like a cute hat) which distributes the heat evenly to every ingredient, while traps all the moist coming out of each ingredient inside of the lid and gives the steaming effect.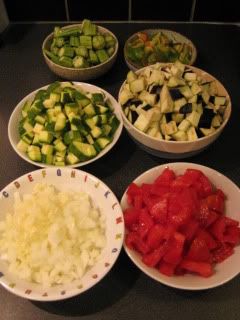 Ingredients: Onion, bell pepper, Japanese eggplant, zucchini, tomatoes, okra, olive oil, red chili flakes, herb d'Provence, basil, salt and pepper. I ran out of the red (or yellow) bell pepper, so I used the green bell pepper only this time.
Saute the onion with a tablespoon of the olive oil first, then add each of the bell pepper, eggplant, and zucchini individually, after each ingredient is added and sauteed for a couple of minutes.
Add the tomatoes, okra, a pinch of dry chili flakes, 1/2 tablespoon of herb d'Provence. Season with salt and pepper. Stir.
Close with the lid and cook over medium heat for 15 minutes. Stir sometimes. Before finishing, add the chopped basil leaves and toss again. Garnish with parsley.
I could taste the whole summer in my mouth. I served the ratatouille with the lemon wedges. My donabe did it again...it was a wonderful dinner!
You can find more info about the tagine-style donabe, "Fukkura-san", on
toiro's website
.