Since I still had some more mozzarella cheese and tomato juice (I used some for making
donabe tomato-cheese fondue
) in the fridge...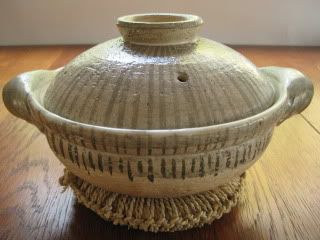 This time, I decided to make a quick zosui (soupy porridge) with donabe for lunch. For this, I used mini-size
classic-style donabe, "Rikyu Tokusa"
. This recipe is super easy and fast, and the result is really delicious (and filling)!
1. Combine 100 ml tomato juice with 200 ml vegetable stock in mini donabe.
2. Add a 2 oz kabocha (cut into small cubes) and 1.5 oz enoki mushrooms (cut into 1" length) and set over medium-heat. Turn down to simmer once it starts boiling.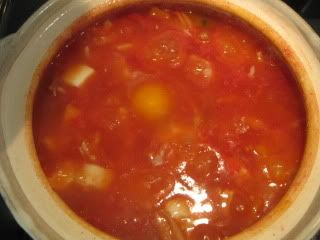 3. Once kabocha is cooked, season the broth with a pinch of salt (or 1 teaspoon of shio-koji), and stir in 1 teaspoon kuzuko (arrowroot starch, mixed with the equal amount of water) to thicken the broth.
4. Add a small rice bowlful (about 2/3C) of cooked rice (warm) and stir. Then, add 1 oz mozzarella cheese (shredded) and drop an egg in the center.
5. Cover and continue to simmer for a couple of minutes.
6. Turn off the heat and let it rest for another couple of minutes.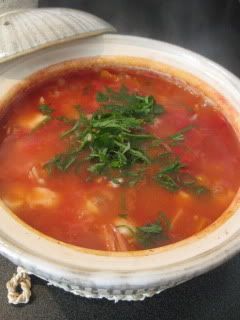 7. Garnish with sliced shiso leaves and serve immediately.
It was like a Japanese-style tomato risotto and super delicious...rice, cheese, gooey egg yolk, and sweet kabocha, worked perfectly with the light tomato broth. Such a nice complete meal.
Happy donabe life.