This is another very izakaya-style dish, you can prepare quickly...and it's very tasty sake-friendly dish.
For this dish, I use my microwavable
donabe steam-roaster, "Tochinsai"
, but I use it without the grate and over the gas stove, instead of in the microwave.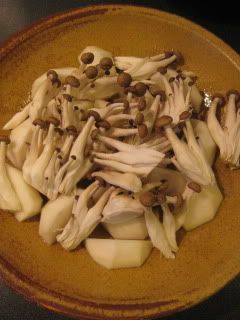 Peel and cut a few kabu (Japanese turnip) and add to the skillet of Tochinsai with shimeji mushrooms. Toss them in 1T olive oil and add 2T water. Cover and let them steam over medium-heat for 5 minutes or until kabu is tender. Add some kabu greens and cook for another minutes. Turn off the heat.
Meanwhile, make mentaiko (spicy cod roe) sauce. Take the roe out of one sack (1.5 to 2 oz) and mix with 1 teaspoon olive oil, 1/2 tsp grated garlic, 1 teaspoon lemon juice, and 1/2 teaspoon soy sauce. Once the vegetables in Tochinsai are lightly cooled-down, add the mentaiko mixture and mix them together.
That's it. The flavor of umami-packed mentaiko with light kabu go really well together. Very nice.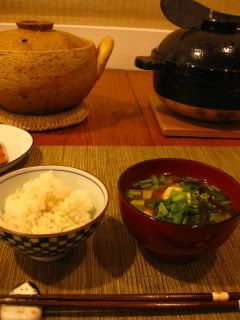 One evening, besides this dish, I also made mozuku seaweed in vinegar sauce (I sliced the lemon too big...haha), sun-dried mushroom miso soup in
soup & stew donabe, "Miso-shiru Nabe"
, and of course,
super-shiny donabe rice
.
The dessert was Honey Pistachio Ice Cream. I made it with tons of pistachios which I roasted. It came out so nice.
Happy donabe life.