With leftover cheese in the fridge...I came up with another something so delicious.
In my mini-size
classic-style donabe, "Rikyu-Tokusa"
, I first sauteed a couple of crushed garlic cloves in olive oil, then added 3/4C vegetable stock, a small can (8 oz) of tomato sauce, and some leftover cheese (about 3 oz of each Swiss and mozzarella, grated). To thicken the sauce, I stirred in 1 tablespoon kuzuko (arrowroot starch), which was dissolved in equal amount of sake into the sauce. At the end, I added some ground black pepper.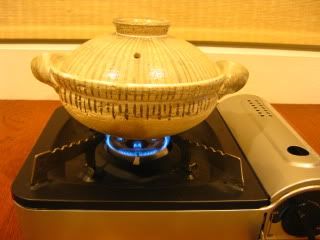 Meanwhile, I steamed vegetables in
donabe steamer, "Mushi Nabe"
, and they were plated with some turnip leaves and mochi (rice cake). Sauce was served on a portable burner at the table and served with the vegetables to dip. They were so delicious with the cheesy tomato sauce!
With the leftover sauce, I put some donabe rice in it to make quick "ojiya" rice soup. Fantastic.
Happy donabe life.