I ate a lot of cold noodles during this trip.
Another tiny soba house in a residential area in Urawa.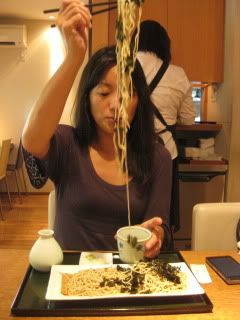 I had a very nice cold soba with "tororo" (grated mountain yam with raw quail egg dipping sauce) dish. My sister liked her simple cold soba with nori (roasted seaweed) topping. Mom's "Okame" udon was a cute presentation of okame (classic female character) face.
In this stay, we had a few dinners at home...and drank a lot of wines.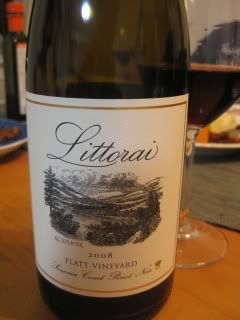 Francoise Bedel, Champagne "Origin'Elle" ...78% Pinot Meunier, 13% Chardonnay, 9% Pinot Noir. From average 40-year-old vines. 4 years sur-lie was followed by 5 years of bottle aging. Dosage 11.65g/L. It's N.V., but it's actually Millesime 2004. Really mellow and elegant. Aroma of honey, caramel, brioche, and spice. Fine mousse and minerality. Unlike most of Bedel's wines, this wine wan't fermented or aged in oak. Gorgeous.
2009 Domaine Cachat Ocquidant, Ladoix…small family-owned domaine. From average 50-60 year-old vines. Cherry, earth, subtle spice. Smooth tannin and nicely balanced.
2008 Littorai, Pinot Noir, Platt Vineyard (Sonoma Coast)…Natural wine. Deep berry and spice aroma. Dense texture. Complex. Very elegant.
2008 Tenuta Sella & Mosca, Cannonau di Sardegna Riserva…Shiny garnet color. Aged for 2 years in oak. Rich aroma of dark berry and black pepper. Smooth tannin. Nicely balanced.
2008 Littorai, Chardonnay, Charles Heinz Vineyard (Sonoma Coast)…Shiny light golden color. Tropical fruit with spice and minerals. Luscious texture and long finish. Well-balanced oak fruit and oak.
2010 Domaine Maurice Gavignet Pere & Fils, Gevrey-Chambertin…Very charming village class Gevrey with 18 month of aging in oak. Non-filtered. Dark cherry, tea smoke, spice, medium tannins.
2010 Vigneau-Chevreau, Vouvray, Cuvee Silex…Small biodynamic producer. Average 55-year-old vines. Fermented for 2 months in 600L barrel. Ged for 12 months in 600L barrel. Very clean and crisp vouvray with lots of minerals, apple, honey, and herb nuance. Balanced acid and fruit.
2007 La Cave de Gigondas, Gigondas, Le Brut du Foudre 56…Grenache 75%, Syrah 15%, Mourvedre & Cinsault 10%. Traditional style Gigondas, aged for 15 month in foudre, unfiltered. Round and dense tannins, aromatic spice and berries. Long finish. Nice.
Pretty nice selection for hot summer.
As always, time flew really fast and it was already time to go back to LA. This time, instead of flying out of Narita, I decided to try a late-night flight from Haneda Airport. My family came to the airport with me to see me off. Because it was already after 10pm, most restaurants were closed except some izakaya-style places. So, we had a quick meal at an "Oden" (type of stew) restaurant...I had egg, wakame, yuba (tofu skin)-wrapped mizuna, konnyaku, and sardine tsumire (dumplings). Very good.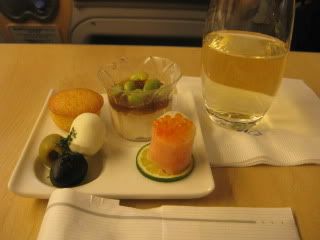 My flight departed past midnight, so I just took a small bite amuse with
Champagne Jacquart, Brut Mosaique
- 50% Ch, 35%PN, and 15%PM), followed by
2008 Flie a Deux, Russian Valley Chardonnay
, and
2008 Dios Ares, Rioja Crianza
. Dios Ares was quite deep and nice...which let me fall asleep nicely. After I woke up, I had just a salad (yuzu vinaigrette) and cheese plate...I didn't want to eat too much because I knew Jason wanted to go somewhere after he was picking me up at LAX:-)