On the contrary to the previous day's elegant Japanese kaiseki lunch at a tiny restaurant, it was a bistro-style French dining on the 11th floor of Shiseido building. The place is called FARO Slow Time, and the restaurant has a nice panoramic view of Ginza and lively open kitchen.
We had their lunch course.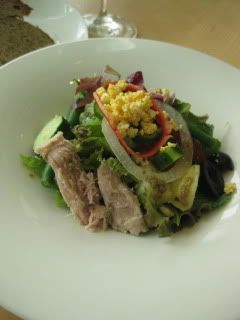 Salad Nicoise was topped with very slow-cooked tuna. It was so moist and the texture was almost like chicken tender. It was very much my kind of Nicoise salad! Seabass poele also had a very nice pure quality.
Braised pork shoulder in white wine was so tender and beautiful. Cheese cake and vanilla ice cream.
Very high-standard lunch. I wish we had a casual French dining at this level of quality in LA.