Chefs in action - Getting ready the donate-smoked beef brisket dish
It felt like I was waiting for this for a long time, and it finally happened. Last Sunday, I hosted a private dinner party to celebrate my
DONABE Cookbook
at
Otium
in Downtown LA.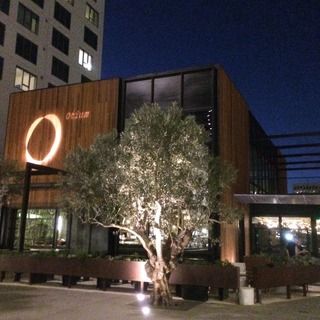 Otium has just soft-opened last week and started serving lunch. But, it's dinner service won't start until a few weeks from now. Chef Tim Hollingsworth and his team opened the restaurant just for my party on the night. Yes, the night was exclusive to us…can you believe it?!
They set up one long table for us in the center of the dining room with the display of the book copies on one side. I was getting so excited and waited for my guests to arrive. At around 6, most guests were here.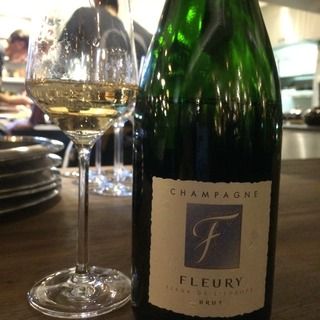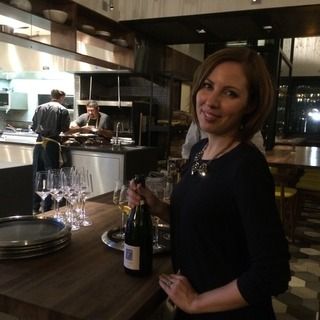 The magical night started with Champagne and canapé reception.
We had…
NV Fleury , 'Fleur de l'Europe," Brut, Champagne
Gougère

Pork & Chorizo

The Champagne was by a natural producer I like and this is made of 90% Pinot Noir and 10% Chardonnay. It's so delicate and has the nice roundness from Pinot Noir. It was really great with both Goug
è
re and crispy pig skin canapés. There were more than 20 of us, me and all my friends, and we were already having a great time.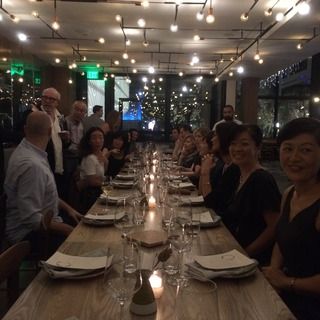 After a while, it was time for us to sit down at the table. It was the beginning of the epic dinner...
These are two kinds of wines we served during dinner. They are both artisan organic producers. Really beautiful wines.
2013 Ovum - "Memorista" Riesling (Oregon)
2013 Henry Marionnet – Gamay (Touraine, Loire Valley, France)
We also had various special wines brought by some of the guests and also myself.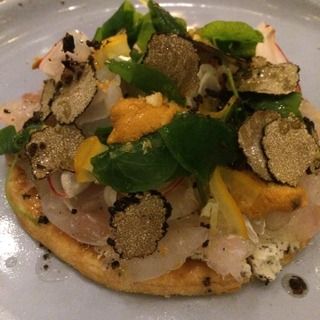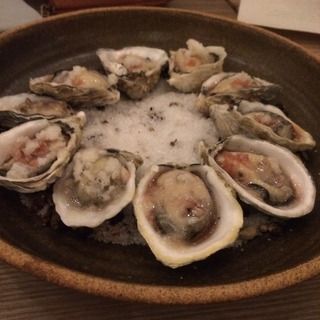 Hamachi - Nori - Avocado - Sweet & Sour Tomatoes
Snapper - Sea Urchin - Truffle - Hazelnut
Oyster - Shallot Mignonette - Horseradish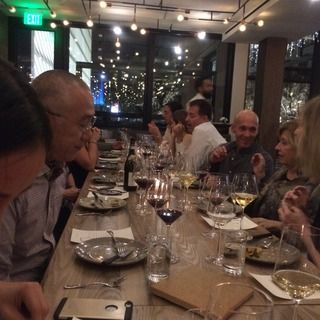 Everybody was already at the height of excitement.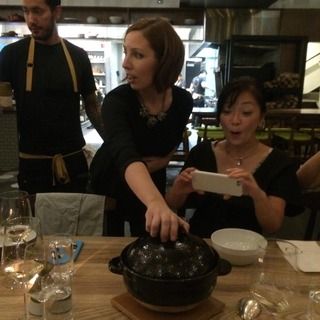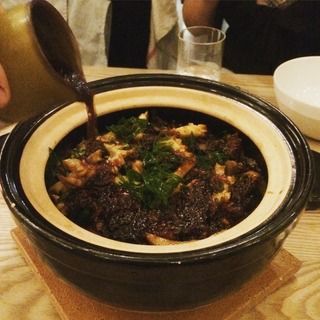 The arrival of the donabe rice course, made in
double-lid donabe rice cooker, "Kamado-san"!
Abalone - Chestnut Rice. Once the lid was removed, a special soy-based sauce with yuzu-ginger flavor was poured over and the rice was quickly fluffed.
Unbelievable dish. When I had a chat with Tim a couple of weeks before the dinner, he asked me if there was any specific rice dish I wanted him to make. I didn't want to influence his mind with my existing idea of my familiar dishes, so I said I was open to ANY idea he had and wanted him to make anything he wanted. When I saw and tasted this dish, I felt, this was exactly why I said it, because this dish was beyond anybody's imagination and it was nothing but the expression of the chef's true talent. Everybody including Mori-san who cultivated
this rice
in Uruguay was blown away by this beautiful dish.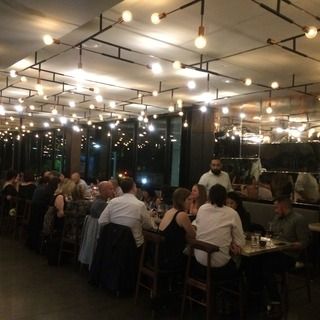 We all felt like the luckiest people on earth, having this dinner.
Otium Garden Salad - Fresh Herbs

Scallop - Bone Marrow Vinaigrette - Celeriac - Celery
Duck - Pear - Chocolate - Turnip - Onions
Every dish and every detail…the level of sophisticateon was above and beyond.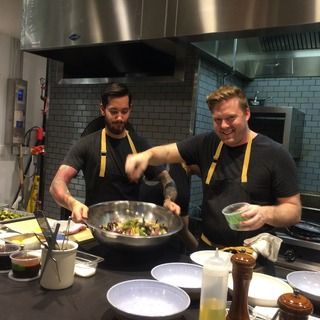 I invaded the kitchen to witness the special moments. Chefs in action.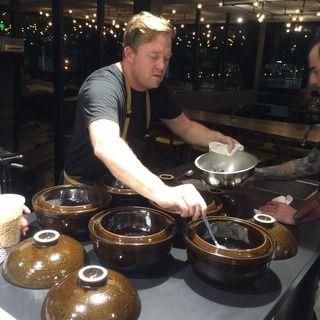 And, the chefs were getting ready a dish with the
donabe smoker, "Ibushi Gin"!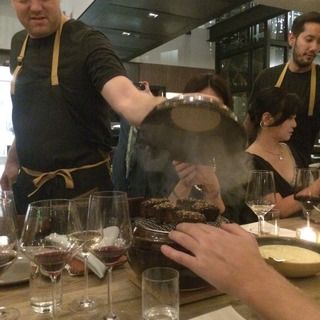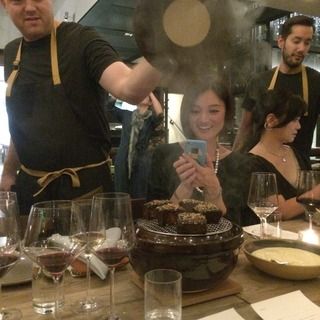 Smoky reveal time!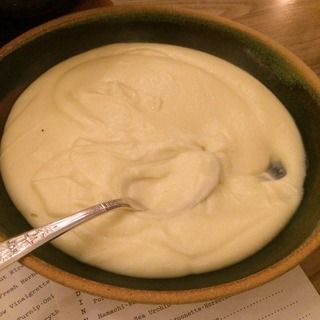 Smoked Brisket - Everything Bagel Topping
Potato - Carrots - Onions - Brussels

Creamy Mashed Potato
When the lid was removed the aroma of the savory meat and smoke was gently released. Wow, the beef was so tender and flavorful with the perfect smoky flavor.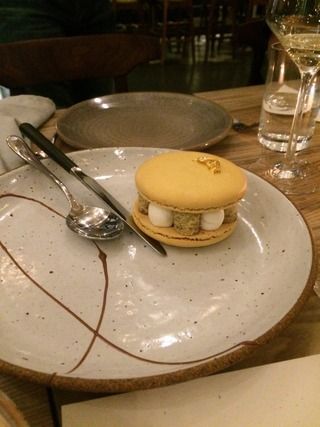 Dessert time.
S'mores

Banana Cream Grand Macaron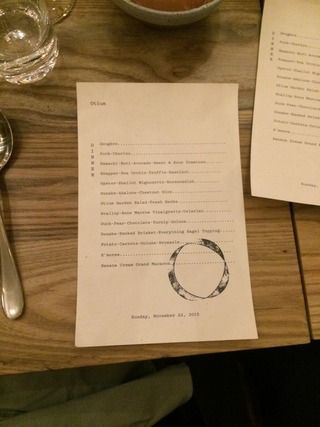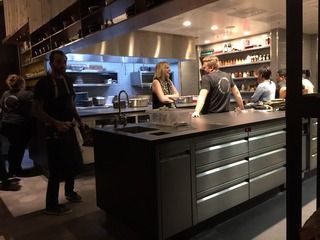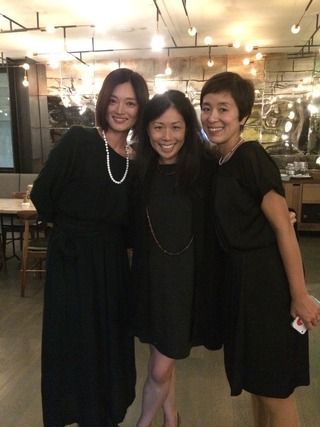 EVERYTHING was beyond incredible.
The dinner was filled with all the happy positive energy of everybody. I just didn't want the night to end…it was so incredible that this dinner will be unforgettable for my life.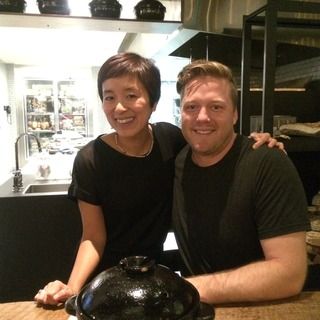 I can't thank Tim and his most talented team enough for making this happen with the amazing dinner and top class "omotenashi" hospitality. The experience they gave us made us treasure the moments we share and made us fell Life is Great!
(There are some photos taken by my friends in this post but I can't remember which ones were from whom, so thank you, my friends!)