(Day 5)
We left Beaune around noon and drove to Paris. It took just about 3 hours to get to this busy city. The weather in Paris was so warm that I didn't even need a coat.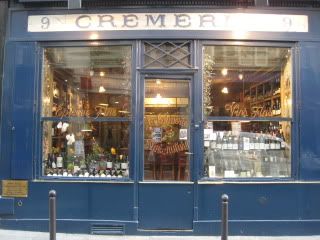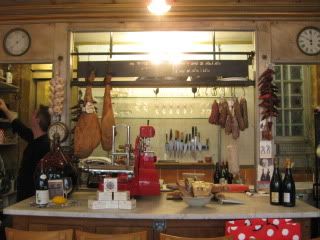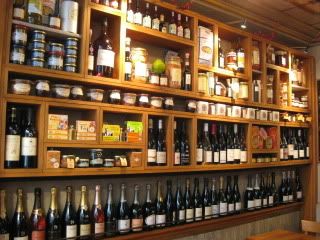 We did some afternoon shopping. The store we found last year,
CREMERIE
, was open. We had a nice chat with the owner of this cute wine bar/ wine shop/ gourmet store. I bought a couple of nice Champagnes (not yet distributed in the US)!
The, we went to a dinner at
Toyo
(17, Rue Jules Chaplain 75006 Paris), which is a very popular restaurant, run by designer Kenzo's former private chef,
Toyomitsu Nakayama
. I had to make reservations 1 month in advance. The chef creates haute-Franco-Japonaise cuisine.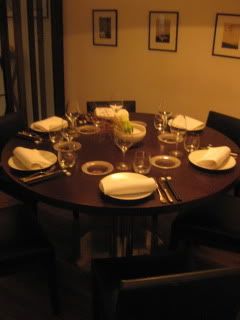 It's a beautiful restaurant with paintings of Kenzo as well as art prints, which were from his private collection. The restaurant has a long counter seating from where you can see all the actions in the open kitchen. We were a group of 6 tonight (including friends of Lloyd) and had a table in the private dining room.
Amuses bouches:
Boudin maison et feuille de riz. Flan de soja et huitre
(House made sausage and rice chip. Tofu flan with oyster).
1ere Entrée:
Aile de Raje pochee(Poached skate fish and potato salad).
My friend had Eperlan fish fry with tartar sauce.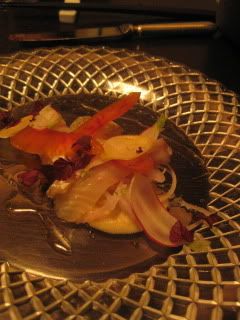 2eme Entrée:
Maquereau marines (Marinated mackerel).
My friend had Seabream carpaccio with bottarga.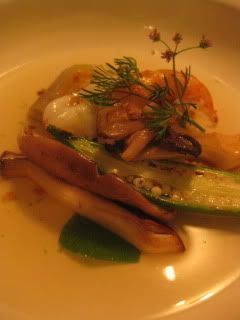 1er Plat:
Encornet, crevette, champignons et legumes in bouillon (Squid, shrimp, and mushrooms, and vegetables in bouillon).
My friend had Pan-fried scallop and daikon cake.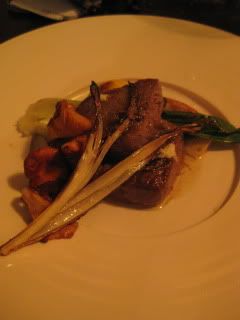 2eme Plat:
Paella japonaise aux fruits de mer (Japanese-style paella for 2)
…I shared the dish with CT. It was first presented in a pot and served into plate. The rice was cooked in Japanese dashi stock. Steve had Toyo-style curry with vegetables. Lynne had Limousin beef filet steak.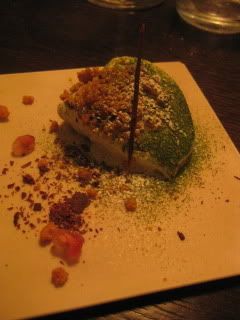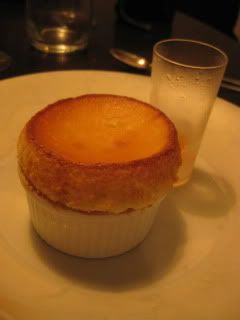 Dessert:
Tiramisu au the vert (matcha green tea tiramisu).
Other desserts were…Cream cheese soufflé and mandarine liqueur, and Tarte-like strawberry with salt caramel.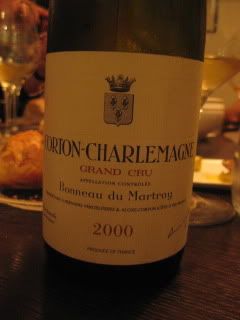 Wines were beautiful tonight, also.
2008 Simon-Beze et Fils, Savigny-les-Beaune blanc
…from Serpantier vineyard.
2000 Bonneau du Martray, Corton-Charlemagne
…rich and round, beautiful.
2009 Fougeray de Beauclair, Vosne-Romanee, "Damodes"
…from right west of La Tache vineyard. "Old school" style Vosne-Romanee, so it wasn't flashy but with luscious frits and spice. Excellent.
What a wonderful dinner it was! I loved EVERYTHING I ate tonight. Every dish was prepared with sensitivity with full of flavor. They were not only so artistic, but also very fresh and not heavy at all. I was so happy to be back in Paris tonight.