(Day 4)
It was another gorgeous day in Bourgogne.
Our first appointment was with Domaine Anne Gros in Vosne-Romanee. Anne was out of town, so her assistant winemaker (sorry...I forgot her name!) met us for the tasting. We tasted all 2010 samples.
(2010 vintage)
Hautes Cotes de Nuits
Chambolle-Musigny, "La Combe d'Orveau"
Richebourg
...from steep parcel, average 90-year-old vines. Harvest started on Sep 29 this year, while 2009 was Sep 20).
Bourgogne
(rouge)
Vosne-Romanee, "Barreaux"
(lieu-dit)
Clos Vougeot
...average 60-65-year old vines, from "Grand Maupertui" parcel.
Hautes Cotes de Nuits "Cuvee Marie" blanc
Bourgogne blanc
In average, Anne Gros uses about 30% new oak for regional AOC, 45% for village AOC, and 70-80% for Grand Cru. It was a very good tasting. The wines tasted all balanced, and some of them were showing nice potential of aging.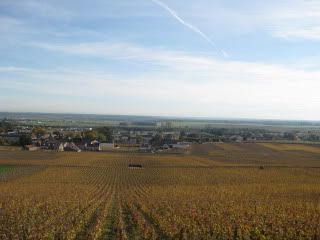 After the tasting, we drove to see more vineyards. The view from north-end of La Tache was really gorgeous. I want to do picnic here next time!
Then, we also visited Chambertin Clos de Beze. Peaceful time.