Last Saturday was the last day before I was leaving for Europe for 2 weeks. So, I really wanted to eat something non-Western!
We went to K-Town for a homey dinner at Jun Won Restaurant. The front door is always locked.
So, you have to enter from the back door. It's tricky, unless you already know they have a back entrance. Once we entered, the place was so lively and packed.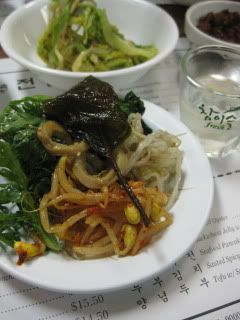 Jun Won probably have the best banchan (small side dishes) in K-Town. There are so many freshly-made kinds. They even serve beef & pork pate (like mini hamburger) as a banchan!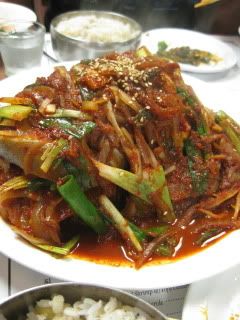 Their specialty is steamed fish. We ordered Steamed Cod. It's a huge dish, with generous amount of cod. The fish was high quality and tasted so good. Seafood Pancake was also good.
Bean curd soup (kongbiji jjigae). It was a very dense soup with coarsely ground soybeans and pork with vegetables. I loved the rustic flavor of it.
For two of us, it was a lot of food, and we loved everything! I kept eating until I just couldn't eat any more. The food was classic Korean diner style, and I thought in all the restaurants I've tried in K-Town, their food is among the closest to what I'd experienced in Seoul. The service is very nice, too. It's a family-own restaurant for 18 years (mother and son were running the place when we were there). I will definitely come back here after I return from my trip.