Me with Kyle before the dinner service (photo by Kyle)
On December 12 (Sat) and December 13 (Mon), Kyle and I did special dinner events at
Chef's Club
in New York. Chef's Club is operated by
Food and Wine Magazine
, and we were invited as visiting chefs to cook special dinner for two nights in their Studio.
So we created a special menu, including many of my recipes from
DONABE Cookbook!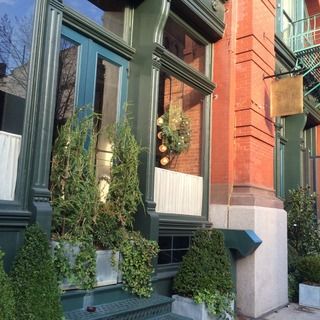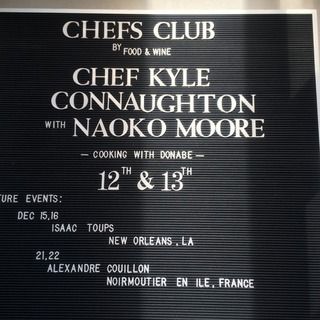 It was another gorgeous day in NYC.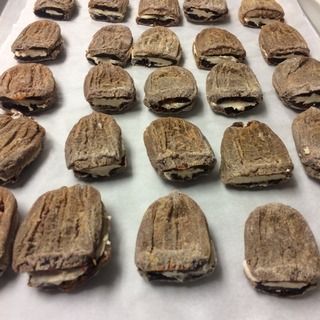 During the day, we did final prepping for the dinner. The packages of hoshigaki needed for the first course were delivered just a couple of hours before the first service from California on Saturday. Hew.
The Studio is a private room connected to the main dining at Chef's Club. Everything was set up and we were ready.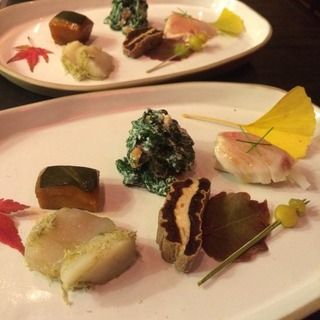 Braised spicy kabocha from Hassun course was made in
soup & stew donabe, "Miso-shiru Nabe"
.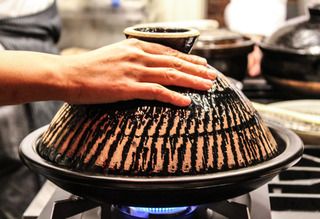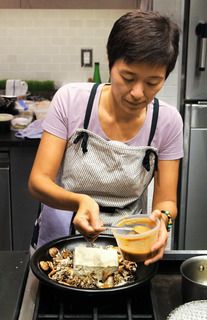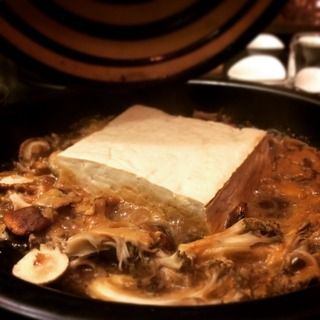 Sizzling tofu dish, cooked in
tagine-style donabe, "Fukkura-san"
.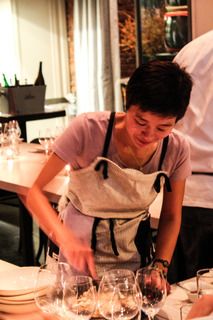 Smoked Calamari dish was made in the
donabe smoker, "Ibushi Gin"
.
Steamed black cod with fermented black bean sauce was made in the
donabe steamer, "Mushi Nabe"
.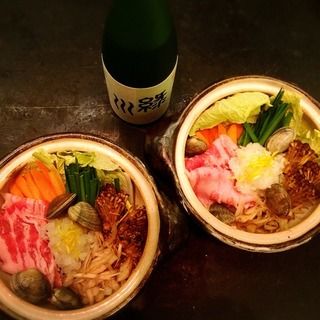 Niigata-style "sake nabe" was made in various sizes of
classic-style donabe
.
Salmon hijiki rice with uni was made in
double-lid donabe rice cooker, "Kamado-san"
.
Chestnut & pear steam cake was made in
donabe steamer, "Mushi Nabe"
.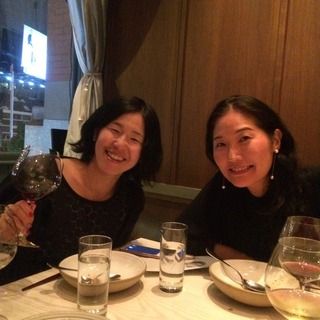 So happy that my long time Japanese girlfriends (for over 20 years) who now live in Connecticut and New York came to see me and taste our dishes! Thank you so much, Emiko, Chigusa, and Yuki!!
Happy donabe holidays. And, here's the menu...
Plate 1:
"Hassun"
Braised Spicy Kabocha
Roasted Ginkgo Nuts
Scallop, Quickly Cured in Tororo Kombu
Hoshigaki, with Creamy Sake-kasu Sandwich
Spinach "Shira-ae" with Tofu & Saikyo Miso Sauce
Steamed Yellowtail Shabu-shabu with Negi, Daikon & Ponzu
Wine paring: Vilmart & Cie, Champagne "Grand Reserve" Brut (Rilly-la-Montagne)
Plate 2
:
Sizzling Tofu & Mushrooms with Miso Sauce & Chunky La-yu
Wine paring: 2012 Schloss Vollards, Riesling (Rhingau)
Plate 3:
Smoked Calamari Salad with Black Sesame Vinegar Sauce
Wine pairing: 2011 Moreau Naudet, Chablis Forets
Plate 4: Steamed Black Cod with Fermented Black Bean Sauce
Wine pairing: 2012 Red Car, "Hagan Vineyard" (Mt. Harlan)
Plate 5: Niigata-style Sake Rich Hot Pot
Wine pairing: Kirin-zan, Junmai Daiginjo (Niigata, Japan)
Plate 6: Salmon Hijiki Rice with Uni
Plate 7: Chestnut & Pear Steam Cake
Wine pairing: 2013 Carussin, Moscato "Filari Corti"
**Photo credit: Some of the photos are taken by Kyle Connaughton and Aaron Arizpe.