The weather has finally turned sunny on Friday.
We saw a beautiful rainbow from our balcony in the morning.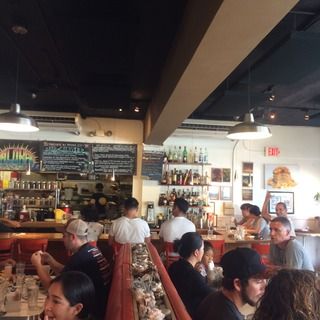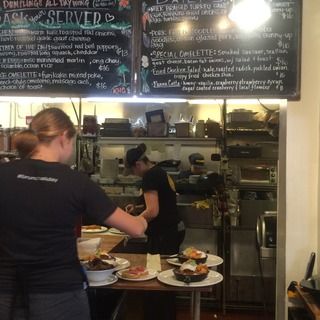 For brunch, we went to
Koko Head Cafe
in Kaimuki. Jason loves the place and he was finally taking me there. The restaurant is run by Chef Lee Anne Wong, who also owns
Hale Ohuna
where I enjoyed dinner in my last visit. Koko Head Cafe does "island style" contemporary brunch.
We got the counter seating so we can see all the action in the kitchen. This is a very popular place, and right after we got seats, we saw there was a long wait outside.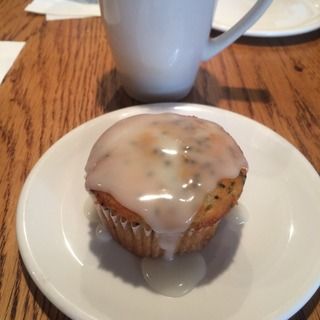 We started with black sesame yuzu muffins, and "Dumplings all day Wong".
Jason had breakfast congee with bacon, Portuguese sausages, heritage ham, etc. Very rich.
I had "fish and eggs" in a sizzling skillet. It was miso-marinated marlin with scrambled eggs, sautéed ong choy, on top of ocean rice (rice mixed with seaweed). Very nice and satisfying.
In the afternoon, we enjoyed some drive, shopping, and massage & facial. I felt so refreshed.
For dinner, we went to
Lucky Belly
in Chinatown. I came to this place in January and loved it so much. They serve contemporary Asian cuisine plus unique ramen dishes.
Beet and spicy greens...goat cheese, candied pumpkin seeds, pomegranate dressing.
Shrimp gyoza...edamame avocado puree & ponzu.
Duck tataki...kabocha puree & pear and raisin chutney.
Then, each of us had a bowl of ramen. Jason had "Beast Bowl" (brisket, short ribs, and oxtail wontons), and I had "Belly Bowl" (pork belly, bacon, and sausage). Wow, my ramen was so good. The thick cut of the belly was so jiggly and tender. I loved the sausage addition, and also the generous amount of wakame, too.
Their wine list is also good. I enjoyed Carricante from Sicily, and also Salice Salentino from Puglia.