(Day 5)
I'm sad that we've already passed half way in this trip. Next time, we should plan for 10 days, instead of 8. We've been having so much fun here.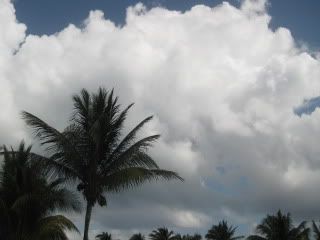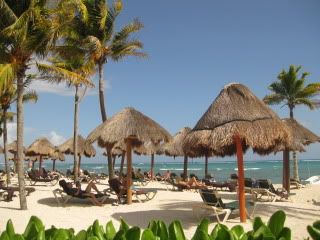 During the day, we enjoyed activities both in the beach and pool. Lunch was Mexican buffet on the beach. I did BBQ chicken, pork, and ceviche, then I went back for another plate of more ceviche and grilled fish! My appetite is growing bigger with the tasty Yucatan food.
In the evening, we went back to
Hartwood
, this time, to actually dine there! We really wanted to go there in this trip, because I've heard nothing but great things about this restaurant. The restaurant was opened by an American couple a few years ago. Chef Eric, cooks the food by using all the sustainable local ingredients. We took a taxi to the restaurant and got there around 5.30 pm, so it was just about 30 minutes before the restaurant's opening time. Soon after, there were more and more people came and there was a big waiting crowd before they finally opened the gate at 6pm! We were such excited guests and kind of proud that we were also the first guests to be seated.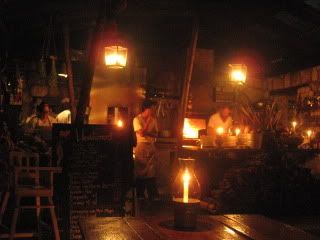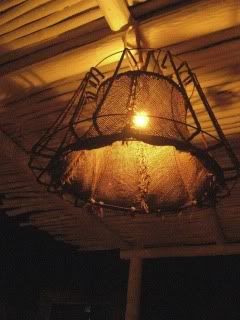 ...and, we got the best table, to overlook their super cool open kitchen with open flame grill and oven! The restaurant is completely open-air in the jungle side of deep south Tulum coastal area. The only lighting in the dining area was basically candlelights. The ambience is just so relaxing with the complete surrounding of the nature.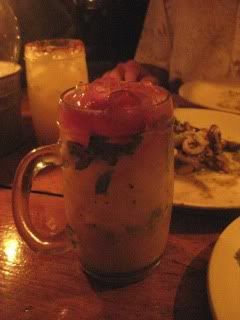 Their drink menu has very interesting cocktails as well as beer and wine (both Mexican and international). I really liked my "Passion in the Jungle" which was rum-based cocktail with fresh passion fruit, etc. For the food, a waiter carried a big board of menu and explained each dish to us. Everything sounded really interesting and we wanted to try everything. But, there were just two of us, so we had to make tough decisions to choose just a few from there.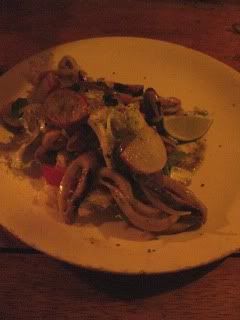 Calamari salad was grilled in the wood-fire and marinated. It was so perfectly just barely cooked through, so the calamari had the really nice fresh flavor and texture. Marinade was a mixture of citrus, chili, etc. Beautiful dish.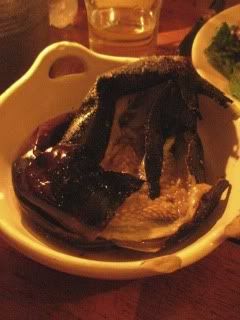 Pulpo platter...grilled octopus, again, was so perfectly cooked and really flavorful. Robalo Alux was local sea bass with beans. It was served in a coconut shell. Side dish was Berenjena con Mel Maya, which was grilled Yucatan eggplant with Mayan honey. All three dishes came right out from the grill. I must say the chef is a magician of the fire-cooking. All these dishes were not only perfectly seasoned, but also the effect of the super intense fire on the grill added the real impressive effect. Bravo.
They had only one kind of dessert and, of course, we ordered it. It was corn ice cream. So simple and so good.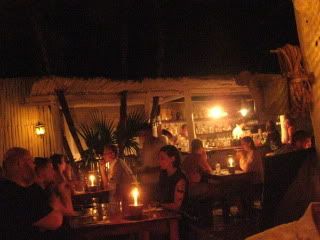 Truly amazing dinner! I loved every moment of the dinner and every bite of the dish. The experience gave me the same sensation when I dined at Spring in Paris, and also wd-50 in NYC. These are all very different-style cuisines by American chefs, but struck me the same way with real personalities and originalities.
I better plan another trip back to Tulum just for dinner at Hartwood.