December 28 (Fri)
We drove to Napa during the day. I was still quite full from the full-course donabe dinner last night, but we were in Yountville and wanted to try
Redd Wood
, which was our friend's recommendation for very good pizza.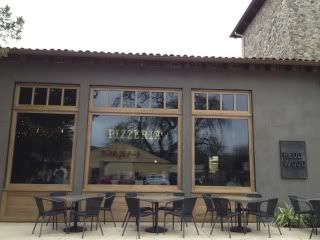 Redd Wood is just next to the organic farm of French Laundry. They are popular for wood-burning oven baked pizza.
Their pizza was really outstanding! I had a pizza with maitake mushrooms, ricotta, garlic, oregano, kale, and pancetta. The slightly chewy crust was quite perfectly done, and the flavor was super good.
Then, we drove up to St. Helena to pick up
matsutake mushrooms which were just foraged
in the morning by a professional forager who is a friend of Kyle. There was a crate waiting for us and packed with tons of matsutake mushrooms!
Since we are near Calistoga, we drove to
Chateau Montelena
for a little wine-tasting break there.
Before going back to our friends' house in Santa Rosa, we stopped by at their friends, Dean and Abby, at their beautiful
Annadel Estate Winery
. They gave us such warm welcome with the wonderful wines they make.