On the second day of 2013, we had guests to our New Year "Osechi" dinner.
Yes, I made all the food...10 dishes including many donabe dishes!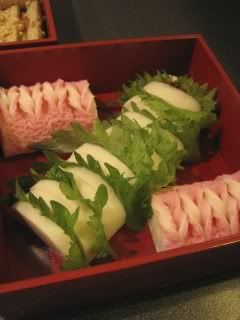 First part was very traditional Japanese "Osechi" New Year items in 3-tier lacquer box. Satsuma-yam puree with chestnuts ("kurikinton"), plum shichimi paste and shiso filled fish cake ("kamaboko"), twisted red & white fish cakes, and bonito-flavored vinegar marinated burdock root ("tataki gobo"). "Kamaboko" were nice kinds imported from Japan.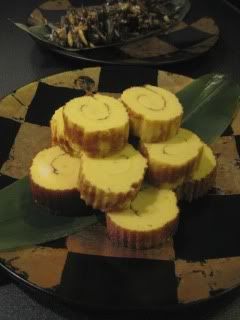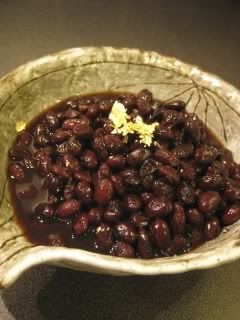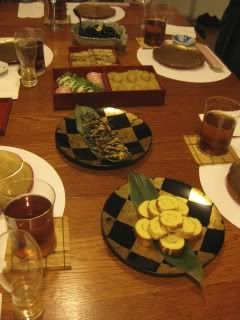 More traditional "Osech" dishes. Egg & fish cake roll ("datemaki"), dried baby anchovy and almond ("tazukuri"), donabe-braised black beans ("kuromame") was garnished with golden leaves.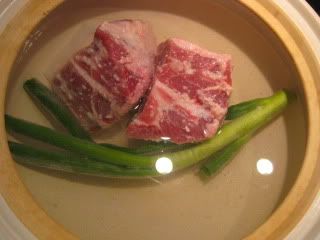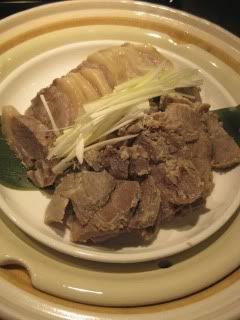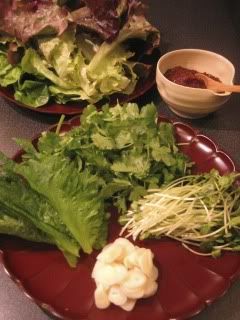 Root vegetable and chicken stew ("chikuzen-ni") was cooked in
classic-style donabe, "Hakeme"
. Kurobuta pork butt was cooked in
donabe steamer, "Mushi Nabe"
. It was first slow-simmered in water/ sake with aromatics in it (without steam grate), then after the meat was cooled down and sliced, it was steamed again in it (with the grate on). Meat was served with lettuce sliced garlic, herbs, and homemade kochujang to wrap. So, it was a Japanese dish with a little Korean twist.
Rice course was, yes, matsutake mushroom rice ("matsutake gohan"), which was cooked in
double-lid donabe rice cooker, "Kamado-san"
. I cooked 2 rice-cup of
freshly-(just partially) polished brown rice
with more than 1/2 pound of matsutake mushrooms and some gingko nuts in dashi stock, which was seasoned with sake, light-color soy sauce ("usukuchi shoyu") and salt. The aroma of matsutake mushrooms filled the room and everybody went nuts over this donabe rice dish.
The last course was smoked camembert and walnuts, made with
donabe smoker, "Ibushi Gin"
.
I was so happy that everybody enjoyed my donabe new year dishes. I had a real nice New Year this year.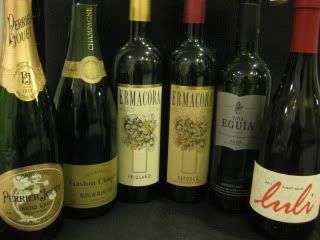 I think it's going to be a really really happy donabe life of 2013!