I had the super-rich pork broth from making slow-simmered kurobuta pork...infused and reduced down with pork, Tokyo negi, ginger, garlic, sansho pepper corns, and sake.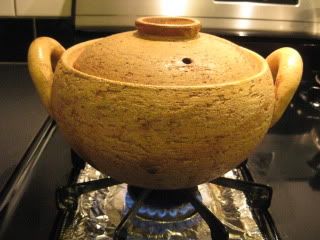 So, I used the broth to make ramen lunch. The broth was tasting perfect, so I seasoned it with just a pinch of salt.
I also had leftover simmered ground chicken ("tori soboro").
So, I used it as a topping for the ramen, along with boiled egg, chopped cilantro and scallion plus a little drizzle of la-yu at the end. Great one-pot quick donabe lunch made in
mini-size classic-style donabe, "Rikyu Tokusa"
. I used dry instant ramen, and it tasted super!
Happy donabe life.