I call this dish "Super" one-pot donabe dish, because it's basically you assemble all the main ingredients in a donabe and just cook them together all at once. You cook and serve in one pot and it tastes really great. I love the combination of the spiciness and a slight tangy kick from the black vinegar. You can adjust the amount of doubanjiang according to your taste. With pork and different kinds of vegetables, it's also nutritiously-balanced. Serve with freshly-made donabe rice, then it makes a tasty meal.
Hot & Sour Pork Sesame Sukiyaki
Ingredients: (3-4 servings)
(marinade)
1 clove garlic, grated
2-3 teaspoons grated ginger
1/2 tablespoon doubanjiang (Chinese hot bean paste)
2 tablespoons sake
2 tablespoon mirin
1 tablespoon raw brown sugar
1 tablespoon oyster sauce
1/3 cup (80 ml) soy sauce
1 tablespoon sesame oil
1/4 cup (60 ml) ground white sesame seeds
10 oz Kurobuta pork, cut into bite-size pieces
1/4 head medium-size napa cabbage, sliced crosswise into 1/2" (1 cm) thick
1.5 oz (50 g) burdock root ("gobo"), thinly sliced by using peeler
4 medium-size shiitake mushrooms, thinly-sliced
3.5 oz (100 g) enoki mushrooms, roughly separated by hand and cut into half
7 oz (200 g) medium-firm tofu, drained and sliced into 12 pieces
1 oz (30 g) carrot, thinly-sliced crosswise
1/2 cup (120 ml) Chinese chicken stock or dashi stock
1/2 tablespoon black vinegar ("kurozu")
some extra ground sesame seeds (optional)
2 scallions, thinly-sliced crosswise
Procedure:
1. In a bowl, whisk together the ingredients for the marinade until smooth. Add the pork and mix well by hand. Cover and refrigerate for 30 minutes.
2. In donabe, spread the napa cabbage evenly on the bottom. Add the burdock root, shiitake mushrooms, and enoki mushrooms in layers.
3. Add the tofu pieces and arrange them to make a circle along the rim. Arrange the carrot slices next to tofu pieces. Add the chicken stock.



4. Lay the pork with the marinade in the center and press gently to make a even layer.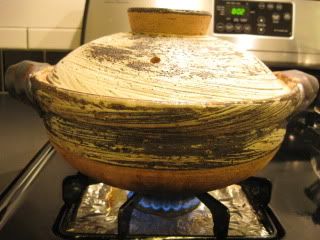 5. Cover and set donabe over medium heat. Let it cook for 8-10 minutes or until the broth starts simmering and the pork starts to cook. Stir.
6. Cover again and cook for additional 3-4 minutes or until everything is cooked through. Add the black vinegar and stir again. Remove from the heat.


7. Garnish with more sesame seeds (optional) and sliced scallions. Serve immediately.
Happy donabe life.