December 26 (Monday)
A day after Christmas was our adventure day.
As soon as we woke up, we were greeted by our buddies from woods.

We joined a tour to Ek Balam. Our pick up came at a little after 7am in the morning.
Ek Balam is about 2 hours by car from Cancun. It's one of the most recently discovered and restored ancient ruins in Mexico. Ek Balam, which means "Bright Star Jaguar" or "Shadow Jaguar" in Mayan, was one of ancient Mayan cities and is also the only one which remains 100% Mayan, while other ancient Mayan cities (including Chichen Itza) had their architecture altered by the cultures that took over the empire. Its construction was considered to have been started about 100BC and continued into 700-900AC. (I found good information about Ek Balam
here
.)
After Ek Balam, we went to the largest and deepest underground spring called,
Cenote Maya
, in Yucatan Peninsula. We did the cave repelling from the ground level all the way down to the water. The cave was so deep and I was originally scared, but once I started going down, it was rather fun!
The water was very cool and also pure. We were told it's also the drinking water for the people who live in the area. The cave was massive and magical.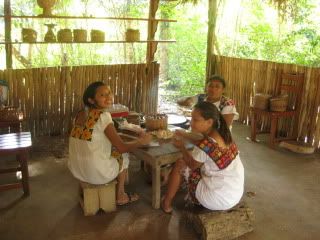 After the water activities, we had sustainably-farmed Mayan lunch, made by the locals. The children were doing Mayan dancing, while adults were making corn tortillas. Lunch was very nice.
We came back to the hotel in the evening. After dipping in the pool for a little while, we went back to their Pan-Asian restaurant for dinner. I wanted to try Sushi made by Mexican chef!