December 25 (Sunday)
Sunny Christmas morning. After big breakfast, we worked out in the gym. Then, we went swimming in the beach. We were told that the hurricane in late October left a lot of damage in the beach and it would take many more months for it to get back to normal. But, it was still beautiful and the water was very nice.
For lunch, the hotel threw a "surprise" poolside Christmas fiesta...I saw seafood after seafood...wow!
In a huge pan, they started cooking crabs. The ceviche bar had different kinds of very tasty ceviche. My first dish was a fresh seafood appetizer plate.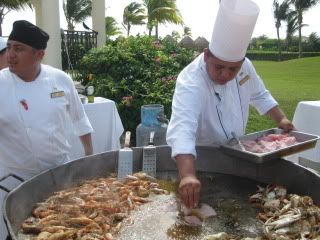 A chef was cutting fresh-caught grouper...some of which was directly dipped in batter and fried, and some were added to the pan. So decadent.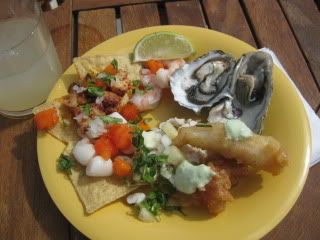 I just wanted to eat everything. Paella was also very nice. In the big seafood pan, chefs kept adding more seafood and kept deglazing with more white wine! The huge clams were their local "chocolate clams". They were not only very pretty but also so juicy and tasty.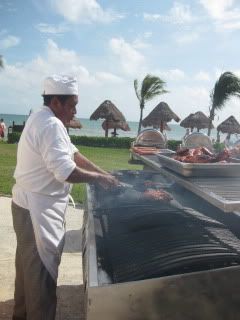 More fish was fabricated and more were cooked. The fiesta lasted for a few hours! The food was just so incredible (with a lot of margarita:-) and I totally had a food coma from trying so many dishes. I couldn't believe such a generous hospitality they gave us. It was the best Christmas meal!
After all the fun beach and pool activities, we had nice spa treatments. I did chocolate body wrap and facial...my body smelled like chocolate after the spa:-)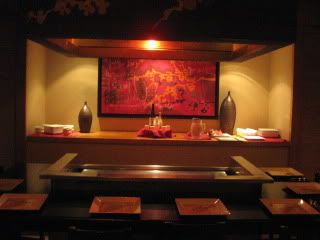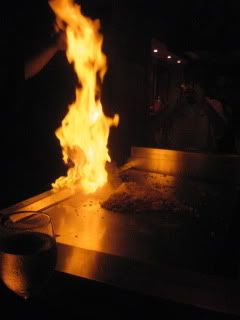 For dinner, we tried "Japanese" teppan-yaki at one of the restaurants at the hotel. I was so amused by the classic "oriental" look it had like from an old American movie. My seafood teppan-yaki was quite good.
After dinner, we had more drink.
Then, we came to our room to find another surprise, from our concierge. Champagne and chocolate strawberries. How sweet!