This is one of my favorite items in typical Korean banchan (small side dishes). So, I decided to make my own. Sesame leaves (
"kkaennip"
) have very distinctive aroma, which I really like. Fresh sesame leaves are much tougher than Japanese shiso leaves, but once they are marinated, they become soft and very nice.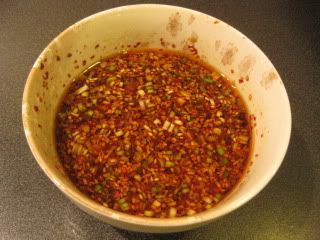 First, make yangnyum sauce. Combine 3T sake (boiled once), 2T honey, 3T water, 6T soy sauce, 2tsp salted baby shrimp, 1.5T ground red chili, 1T roasted white sesame seeds, 1 small knob ginger (grated), 1 clove garlic (grated), 2 scallions (minced), and 1.5T sesame oil.
Sesame leaves are rinsed and pat dry. Then just submerge them in yangnyum one by one. In about 1 hour, they are ready.
These are great on its own, or I also love it with rice (I wrap rice in a piece of sesame leaf)! For any leftover marinade after eating all the leaves, I use it for making stir-fry noodles with it and it's really nice, too.