December 23
We enjoyed more activities in the afternoon.
I tried archery for the first time. After so many tries, I finally hit the target!
For dinner, we tried an Italian restaurant in the hotel. There were many seafood dishes in the menu, so I was interested (it's Yucatan!).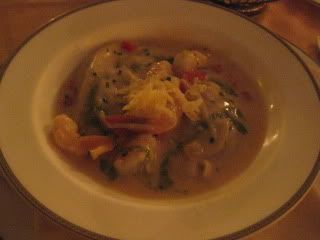 I started with arugula salad, and lobster ravioli.
For main course, I had shrimp & scallop duo over corn risotto.
I enjoyed all the dishes and also noticed that the flavors (spice & herbs) and presentations of dishes were somewhat Mexican...which totally worked with me:-)
After dinner, we enjoyed watching fire dance show. It was quite wild.
And some night cap. The next day was going to be Christmas eve.