This is a very homy rustic Japanese dish. It's so easy and almost impossible to fail as long as you have the good quality ingredients.
Classic multi-purpose donabe is the perfect vessel for this dish. You can cook everything in it and serve the whole pot at the table.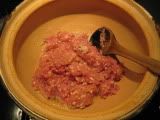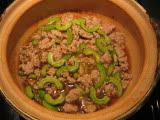 Saute the ground chicken with a little sesame oil.
Once the meat is almost cooked through, add the minced shallot and stir.
Add the sliced goya (bitter melon) and stir.
Add the broth (dashi, soy sauce, and mirin) and simmer with the lid on.
Pour the beaten eggs, and sprinkle the shredded ginger. Close the lid on again and cook for 1-2 minutes. Turn off the heat and let rest for 2-3 minutes with the lid on.
The egg is fluffy, the broth is so soothing, and chicken & bitter melon have the great flavor combinations. It's hard to stop eating it with the freshly cooked fluffy rice!
You can find the complete recipe on
toiro's website
. Please check it out.