I went to visit Nagatani-en in Iga, Mie Prefecture again. Iga is located in the mountainous area between Nagoya and Osaka. From Urawa (where my mom lives and it's a neighbor town of Tokyo, it's a long trave.
First, I too a local train from Urawa to Tokyo. From Tokyo Station, I took a shinkansen (bullet train) "Nozomi" to Nagoya. The bullet train ride is about 100 minutes. Then, from Nagoya, there is another an hour and half to Iga by a highway.
I always enjoy eating obento (take-out box) in the bullet train. The bullet train "Nozomi" left Tokyo in the morning.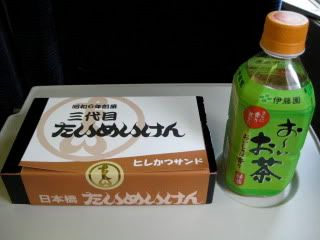 I picked up a box of Hire-katsu Sando (pork tender cutlet sandwich) before getting on the bullet train and started eating as soon as the train left. There were 4 pieces of sandwich with the thick tonkatsu! The pork was so tender and had the great flavor combination with the sauce and grainy mustard. The bread was nicely soft. It was so yummy and very filling!