Thanks to my donabe pots, I enjoy making "Curry & Rice" (we call it Karei Raisu) more than ever. I tweaked my sister's Chicken Tomato Curry recipe to make it my own version.
Tonight, I used the double-lid donabe rice cooker, "Kamado-san", and the soup & stew donabe, "Miso-shiru Nabe".

Here's the recipe for the curry...
Ingredients
1 pound chicken thighs, cut into 2" cubes
2 tablespoons flour
1 small bitter melon, seeds removed and sliced thinly
1/2 medium-size kabocha pumpkin, cut into cubes
1/2 medium-size carrot, peeled and cut into small cubes
1 tablespoon olive oil
1 tablespoon butter
2 medium-size onion, minced
2 clvoes garlic, minced
1 knob, ginger, minced

(spice mixture)
1 teaspoon turmeric
1 teaspoon cumin seeds
1/2 to 1 teaspoon cayenne pepper
2 teaspoons curry powder

1 can (16 oz) diced tomatoes
1-1/3 cups chicken stock
2 bay leaves

1 teaspoon garam masala
salt and pepper
olive oil


Procedure
1. In the soup & stew donabe, "Miso-shiru nabe", saute the onion with 1 tablespoon of each olive oil and butter until caramelized over medium-heat.
2. Add the garlic and ginger, and continue to saute until fragrant.
3. Add the spice mixture and continue to saute until fragrant.
4. Add the diced tomatoes (with the juice), chicken stock, bay leaves, kabocha, and carrot. Bring to boil, reduce the heat to simmer. Skim as necessary.
5. Close the lid and simmer until the vegetables are tender. (about 15 minutes)
6. Meanwhile, season the chicken pieces with salt and pepper. Dredge them with the flour.
7. In a separate pan, heat 1 tablespoon of olive oil and saute the chicken until browned over medium-high heat (the chicken doesn't have to be cooked through). Add the bitter melon slices and continue to saute for another 1-2 minutes.
8. Add the chicken and bittermelon to the curry mixture. Add the garam masala and stir. Season with salt and pepper.
9. Close the lid again and continue to simmer for another 10 minutes. Turn off the heat and let it rest for 5-10 minutes.



After adding the half-cooked chicken and bitter melon, cook further for 10 more minutes. The curry will be ready.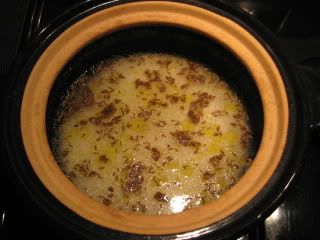 This quick donabe cumin rice was so great, too. To make the 2 rice-cup amount, I simply substituted 2 tablespoons of water with the olive oil. Then, added the 2 teaspoons of cumin seeds and a little shy of 1/2 teaspoon of salt before start cooking. By cooking it with the double-lid donabe rice cooker, "Kamado-san", the rice came out extremely shiny and had the savory crust on the bottom.



The Curry & Rice I made with two different donabe pots were simply phenomenal. The texture of the vegetables was succulent, and flavors were so deeply integrated.

For more info about the double-lid donabe rice cooker, "Kamado-san", and soup & stew donabe, "Miso-shiru Nabe", please check out toiro's website.