(July 30)
It was another brutally hot day in Kyoto. But, I had a pleasure hosting a donabe cooking class at a very cute "machi-ya" (Kyoto's historic townhouse)-turned-lifestyle shop, called sumao. I was invited to do this sold-out class and was very excited.
In a quiet residential area of Kyoto, you find a cute entrance.
Sumao is a tiny shop full of wonderful Japanese artisanal products.
The class was done in the kitchen of Hamaya-san, who is the owner of sumao, and her family lives in the same building as the shop. Atsuko-san, one of the regular customers of the shop, helped me prepping and also during the class.
Fun class with wonderful crowd.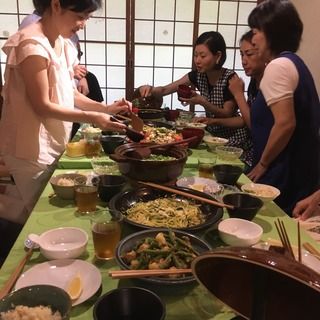 The participants were both from Kyoto's local areas and even from Osaka! I enjoyed meeting these wonderful people.
Happy donabe life.