Chef Tim Hollingsworth's Donabe Dish (from Otium's film by Life & Thyme)
Chef
Tim Hollingsworth
's new restaurant,
Otium
is opening in a few weeks in Downtown LA. This is probably the most anticipated restaurant opening of the year in LA and I'm one of so many people who have been holding breath for the day to come.
Our
donabe smoker, "Ibushi Gin"
, is featured in a short 4-minute film about the restaurant titled as,
Otium: Chapter One
, and it's creating a huge buzz. The film is produced by
Life & Thyme
, and it is so beautifully crafted. So, please check it out! I made a small appearance in the film, too:-)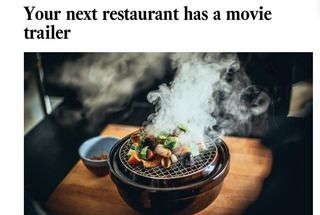 Here's an exciting article by
LA Times
(with the link to the film)
And, here's another article by
Eater LA.
Chef Hollingsworth's talent just amazes me, and you can tell by watching the video. His donabe dish looks so extraordinary! This is a beautiful collaboration of historic Iga-yaki donabe from Iga, Japan, and innovative American chef!! And, I also would like to thank the chef for his support for the artisan products and craftsmen who make them.
I really can't wait to dine at Otium.
Happy donabe life.