Late night soba in Ueno
I came back to Tokyo again a couple of weeks ago. This was already my 4th trip back to Japan this year.
The following day of my arrival was a serious rainstorm all over Tokyo. A big typhoon was passing near, but since it was not a direct hit, I originally didn't take it so seriously. But, it turned out to be one of the worst rainstorms hitting Tokyo this year. In the neighbor prefectures such as Tochigi and Ibaraki, the rainstorm caused massive flooding and caused devastating damages to hundreds of homes.
I already had a plan to get together with friends, so I went out anyway. We met in Ueno, which is an old neighborhood of Tokyo and known as "shitamachi", very down-to-earth rustic area. We met at a typical standing izakaya where local working class people gather.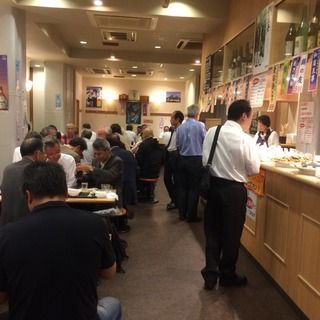 At this place, there are no servers, so you serve yourself. As we walked to the back room where there are tables you can sit at, there was a long stretch of a counter with so many different dishes you can pick up yourself and pay at the end of the counter to check out.
Three of us had a toast with draft beer and shared a few dishes to start a night.
We left the standing izakaya then realized the rain was pouring harder. We managed to walk a couple of blocks to this large building owned by a seafood company. Their first floor is a supermarket of seafood. The seafood all looked really fresh while the prices were extremely reasonable. There were even blowfish, live loaches, etc.
We took an escalator all the way to the top (8th?) floor of the building to dine at their izakaya. Despite the weather, the place was quite busy. I loved the real "shitamachi" casual ambience here. The quality of the dishes, especially the seafood, was so good. We enjoyed many different dishes with a variety of sake from Niigata.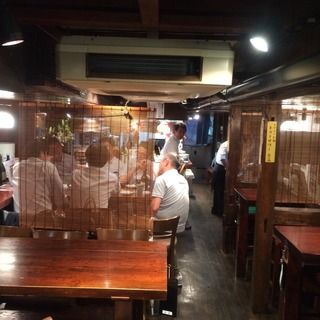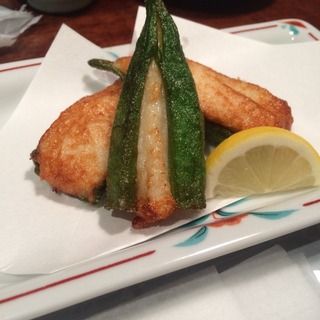 As we walked out of the building, the rainstorm was going out of control. Originally, we wanted to go to one of soba restaurants my friend really liked. But, he said it would be more than 5 minutes walk and it would make us completely drenched even with umbrellas, so we decided to go to a different izakaya just across the street. He said this place is normally very crowded, but with this weather, it was quite empty. Well, but there were still some brave people like us who wanted hang out there in the crazy weather. We had some grilled pork organs and fried shrimp stuffed okra to start with shochu.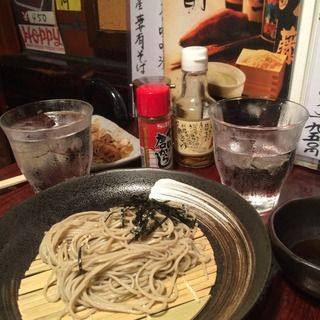 After a few drinks, we had cold "Tsumari soba" to finish the night. This is a rare type of soba, made in Tokamachi in Niigata Prefecture. Just like "Hegi soba", another Niigata's traditional soba, Tsumari soba uses "funori" seaweed as a binder for the noodles. I enjoyed the texture very much.
The night was a real adventure especially with the rainstorm, but we all survived and had a great time.