Warm donabe rice with cold dashi broth and layers of toppings...so healthy!
During hot summer, I like to eat something easy on a palate and nutritious. We, Japanese people, also eat a lot of slimy ingredients in the summer time (okra, mountain yam, mozuku, natto, etc.) for stronger immune system in order to fight fatigue from brutal heat and humidity across the nation.
It's sometimes hard to enjoy hot (temperature) food in the hot weather, but eating too much cold food is not good. So, I like "cool" temperature
Dashi-Chazuke
, which is basically dashi-based broth, poured over rice. It's a healthy one bowl meal, which lets me survive the heat!
The kind I often make is pouring cold dashi-based broth over warm rice, made with
double-lid donabe rice cooker, "Kamado-san"
. It tastes so gorgeous.
Here's the miso-sesame topping. Lightly roasted sesame was ground and miso (my homemade red miso plus Saikyo miso) was added and mashed together.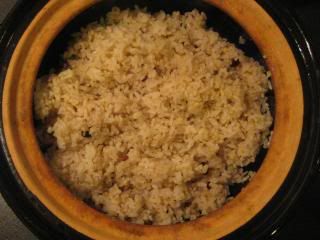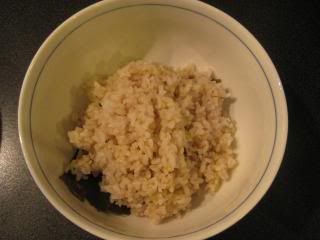 I made plain rice with multi grains with
"Kamado-san"
. Rice was scooped into a serving bowl.
Chilled and very lightly-seasoned broth with soft tofu was poured over the rice. Then, the toppings were built in layers...okra, grated mountain yam, miso-sesame paste, grated ginger, and shiso leaves.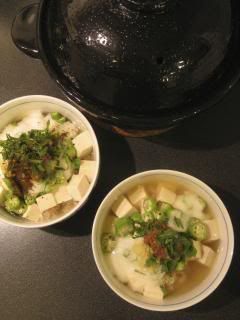 To enjoy, instead of mixing everything together all at once, I like to gently stir in the miso-sesame paste and partially mix as I eat. Warm rice with cold broth makes nice cool dish. Just amazing!
Here's my recipe.
Tofu Dashi-Chazuke (Cold broth over warm rice)
(for double-lid donabe rice cooker, "Kamado-san")
Ingredients:
(2 servings)
2 servings of warm plain rice, made with "Kamado-san"
(broth)
1 2/3 (400 ml) dashi stock
2 tablespoons sake
1 teaspoon light color soy sauce ("usukuchi shoyu")
a pinch of salt
7 oz (200 g) soft tofu, cut into cubes
1/2 tablespoon arrowroot starch ("kuzuko"), dissolved in 1 tablespoon water
(miso-sesame paste)
1 tablespoon white sesame seeds, lightly-roasted
1 tablespoon each red miso and Saikyo miso (or other types of sweet white miso)
1 teaspoon mirin
(toppings)
6 medium-size okra, blanched for 1 minute and thinly-sliced
2 oz mountain yam ("yama-imo"), peeled and grated
1 small knob ginger, grated
4 shiso leaves, thinly-sliced
some "shichimi tougarashi" powder
Procedure:
To make the broth, heat the dashi stock and sake in a pot and season with the soy sauce and salt. Add the tofu and bring to low simmer. Drizzle the "kuzuko"/ water mixture into the pot and stir. Remove from the heat. Chill.
To make the mios-sesame paste, in a Japanese mortar and pestle ("suribachi" and "surikogi"), ground the sesame seeds until they become fine powder. Add both kinds of miso and miring. Continue to ground until fine paste. Set aside.
To serve, scoop rice into two bowls. Top the rice with okra. Pour the chilled dashi broth with tofu. Top with grated mountain yam, ginger, miso-sesame paste and shiso leaves. Sprinkle some "shichimi tougarashi" if you like. Serve immediately.
To enjoy, break the miso-sesame paste a little by little and stir with the broth and other ingredients as you eat.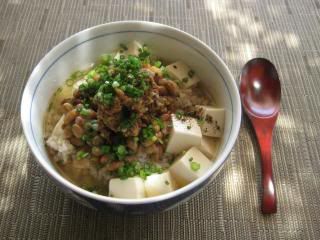 Here's another variation. This time, I chilled down the donabe rice completely and poured hot dashi broth with tofu. I made toppings with homemade natto (fermented slimy soy beans) and miso-sesame paste. I loved this version so much, too!
Happy donabe life.