First off, I have a very exciting news.
Our donabe website,
TOIRO KITCHEN
has a whole brand new look!
Please check out
TOIRO KITCHEN
's new website at:
http://toirokitchen.com
The front page has links to various pages and news feed.
Recipe page is very easy to navigate with many photos.
Now, here's the report from my last Saturday's
Donabe & Japanese Cooking Class
. The theme was
Summer Shojin Dishes
. "Shojin" is Japanese Buddhist-style temple cuisine and it's based on vegan diet. Shojin cuisine is not only a base of Japan's kaiseki cuisine, but also has influenced Japanese home cooking deeply. Here are some photos from the class as well as from my test kitchen.
After a short presentation about shojin cuisine and today's menu, we all got down to work to make 5 dishes!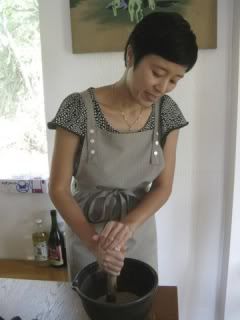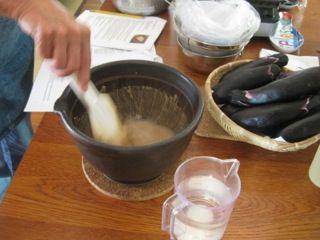 The star dish of shojin cuisine, "Goma Tofu". It's a sesame jelly, and requires some techniques and lots of patience (long labor of grounding sesame seeds)!
Summer "Yaki Nasu" (grilled eggplant) with grated mountain yam.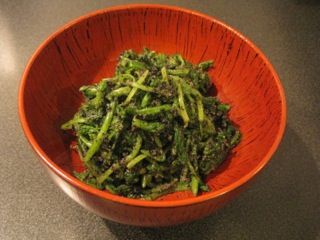 Spinach "Goma-ae" (tossed in ground black sesame sauce), and donabe ginger corn rice.
"Yu-dofu" (simmered tofu hot pot) was cooked in
Kyoto-style shallow donabe, "Kyoto Ame-yu"
.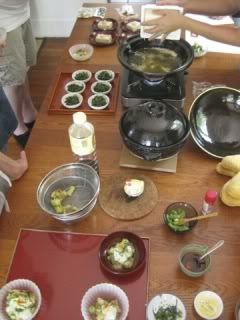 Great fun to cook all these dishes. After everything was ready, we sat down and enjoyed all the dishes with wine. I was so happy to hear everybody loved everything and they complimented how delicious the meal was and definitely want to try them at home.
Here's the menu:
Donabe and Japanese Cooking by toiro kitchen
Theme: Summer Shojin Dishes
Sesame Tofu ("Goma Tofu")
Grilled Eggplant Salad ("Yaki Nasu")
Spinach in Black Sesame Sauce ("Horenso Goma-ae")
Simmered Tofu Hot Pot ("Yu-dofu")
2011 Van Volxem, Saar Riesling (Germany)