I picked up really fresh whole branzinos from a fish market in the morning.
For something super fresh like them, I wanted to do a very simple grilling. First, I scored both sides of the fish skin, pretty deep for even cooking. Then, I seasoned them simply with salt and pepper, and stuffed each with dill and mint leaves.
For the tastier result, I let the seasoned fish rest in refrigerator for 30 minutes.
This will let them sweat excess moisture and the fish's flavor will be more concentrated (i.e. less watery) and the texture will be nicer, too.
We got our Santa Maria BBQ Grill ready for medium-high heat.
Before the fish was put on the grill, I pat-dry the fish with paper towel, and rubbed some olive oil all over the fish.
It's good to use grill pans for easier control on the grill. I also grilled some eryingi mushrooms and peppers.
After 3-4 minutes on one side, I flipped the fish just once and cooked for additional 3-4 minutes. And, when the fish was ready, I flipped them just one more time and transferred to serving plates.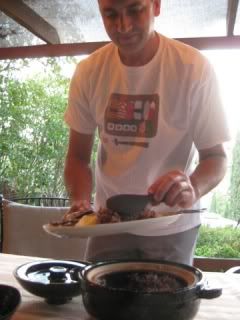 Grilled fish loves rice! I made "purple rice" with my
double-lid donabe rice cooker, "Kamado-san"
. It's actually 9:1 brown rice and black rice. When they are cooked together in donabe, the color turns beautiful purple. I used American black rice (labeled as "Forbidden Rice") from Whole Foods, and it tasted very good.
Fish was cooked so perfectly and the flavor was so amazing. To enjoy, just a squeeze of lemon gave a nice refreshing touch. The skin was perfectly toasted and so delicious. Our grilled branziono fish was so amazing that the fish didn't need any other seasoning or sauce. And, of course, it tasted so great with the purple donabe rice.
Happy donabe life.