Chicken & Eggplant Tomato Curry, served with Donabe Saffron Rice
For me, summer is a season for curry rice!
So, I make a lot of curry dishes in the summertime.
To make curry, I always use my
soup & stew donabe, "Miso-shiru Nabe"
. My curry tastes always so wonderful when cooked in this donabe. Today, I made
Chicken & Eggplant Tomato Curry
. It's a great summer-style curry, and very easy to make.
Sauté minced onion until lightly browned, and add grated garlic, ginger, and minced carrot. After curry powder and other spices are added, add tomato sauce and vegetable stock (or chicken stock).
Chicken was marinated in
shio-koji
in advance. Pan-fry chicken thigh until the outside is brown, and add to the donabe. Simmer for 15 minutes.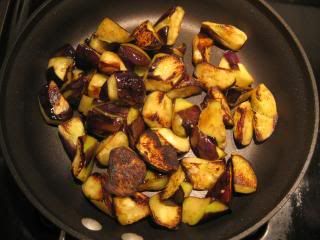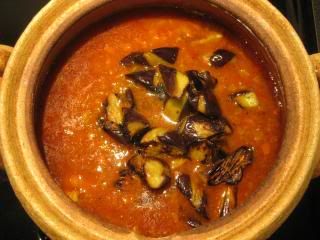 Pan-fry Japanese eggplants and add to the donabe at the end.
The curry is ready! I also made saffron rice in my
double-lid donabe rice cooker, "Kamado-san"
, and served with the curry. I will post the saffron rice recipe soon.
This curry rice is so delicious that 2 of us almost finished everything!!
Here's my recipe.
Chicken & Eggplant Tomato Curry
(for large-size "Miso-shiru Nabe")
Ingredients
(4 servings)
1 pond (450 g) boneless and skinless chicken thighs, cut into good bite size pieces
1 tablespoon shio-koji (can be substitued with 1 teaspoon sea salt)
2 tablespoons flour
4 tablespoon olive oil
1 tablespoon butter
2 medium-size onions, minced
1 clove garlic, grated
1 knob ginger, grated
2 oz (60 g) carrot, cut into brunoise (tiny cubes)
1 teaspoon cumin seeds
2 teaspoons curry powder (make sure it's very high quality)
1 teaspoon paprika (sweet or hot...your choice)
2 bay leaves
8 oz (240 ml) tomato sauce
1 1/2 cups (360 ml) vegetable stock (or chicken stock)
1/2 tablespoon apple cider vinegar (or rice vinegar)
1 teaspoon fish sauce or soy sauce
1/2 teaspoon garam masala
salt and pepper to taste
3-4 medium-size Japanese eggplants (peel the skin in strips, and cut into oblique)
Procedure
Marinade the chicken in shio-koji for 3-4 hours in refrigerator. Dust the chicken in the flour with a little amount of black pepper.
In "Miso-shiru Nabe", heat 1 tablespoon each olive oil and butter over medium-low heat. Add the onions and sauté for 20-25 minutes until the onions are lightly browned.
Add the garlic, ginger, followed by the carrot, and sauté for 1 minute. Add the cumin seeds, curry powder, and paprika. Continue to sauté until the mixture becomes fragrant.
Add the bay leaves, tomato sauce, and vegetable stock. Turn up the heat to medium to medium-high. As soon as the mixture (curry) starts almost boiling, turn the heat down to medium-low.
Meanwhile, heat 1 tablespoon olive oil in a sauté pan. Pan-fry the chicken until golden brown both sides over medium-high heat. (You don't need to cook through the chicken.) Add the chicken to the curry in "Miso-shiru Nabe", while leaving the excess grease in the pan.
Line the surface with a parchment paper, cover with lid, and simmer for 15 minutes.
Meanwhile, heat 2 tablespoons olive oil in a pan and sauté the eggplants over medium heat until golden brown. Transfer the eggplants to a plate lined with paper towel to drain excess grease. Set aside.
Remove the parchment paper from "Miso-shiru Nabe", and add the vinegar, fish sauce, garam masala, salt and pepper.
Add the cooked eggplants and stir. Turn off the heat.
Serve with donabe saffron rice.
Happy donabe life.