Great with plain donabe rice.
For this dish, I use my
classic-style donabe, "Hakeme"
.
Add the pan-fried browned chicken wings (cooked just outside) to the donabe, and sauté with the aromatics.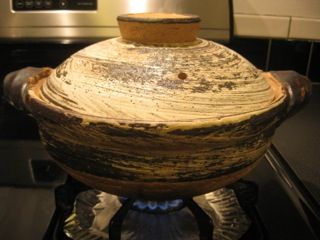 Add the sake, soy sauce, sugar, black vinegar, and water. After simmering for 20-25 minutes, add the enoki mushrooms.
Garnish with the remaining scallion, and serve while it's hot. It's so good!
Braised Chicken Wings & Gobo in Soy & Black Vinegar Sauce
Ingredients:
(4 servings)
8 chicken wings (mid section and tips)
1 tablespoon shio-koji
1 tablespoon olive oil
1 tablespoon sesame oil
1 knob ginger, sliced into thin shreds
2 cloves garlic, thinly-sliced
2 scallions, thinly-sliced diagonally
5 oz (150 g) burdoc root ("gobo"), cut into obliques
4 shiitake mushrooms, quartered
2 tablespoons sake
1/4 (60 ml)cup soy sauce
3 tablespoons raw brown sugar
1 1/2 tablespoons black vinegar ("kurozu")
2 cups (480 ml) water
3.5 oz (100 g) enoki mushrooms, broke apart by hand and cut in half
some ichimi togarashi
Procedure:
Marinade the chicken wings in shio-koji overnight (or at least a couple of hours).
Wipe off the marinade from the chicken. In a sauté pan, heat the olive oil and pan-fry the mic section of the chicken wings, skin side down first, until golden brown over medium-high heat. Turn them over and and add the wing tips. Cook for a couple more minutes.
Transfer the chicken to the donabe, but leave the grease in the pan. Add the sesame oil, ginger, garlic, and 2/3 of the scallion, and stir over medium-high heat until aromatic. Add the burdock root and shiitake mushrooms. Sauté further for a couple of minutes.
Add the sake, soy sauce, sugar, vinegar, and water. Line the surface with a drop lid ("otoshi-buta") or a piece of parchment paper. Cover and bring to a boil, and reduce the heat to simmer. Simmer over medium-low heat for 20-25 minutes or until the chicken is very tender and the sauce is reduced by more than half. Add the enoki mushrooms and stir.
Turn off the heat and let it rest for 5 minutes.
Garnish with the remaining sliced scallion. Serve into individual bowls and sprinkle some ichimi togarashi.
Happy donabe life.