Ground Pork & Okra Curry with Fluffy Saffron Rice and Egg
We did back-to-back donabe curry 2 nights in a row. Previous night was very summery Chicken and Eggplant Tomato Curry. This time, It's a meatier curry and spicier curry...Ground Pork and Okra Curry. Yes, of course, I used my
soup & stew donabe, "Miso-shiru Nabe"
to make this curry.
Jason is crazy about this curry. Every time I make this, he just becomes so excited and end up eating more than half of the whole batch! The making process is even easier than last night's Chicken and Eggplant Tomato Curry, as I can do the entire process in just one donabe.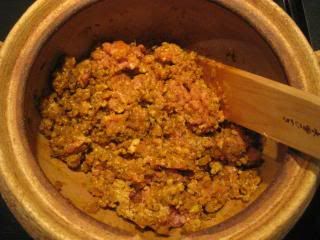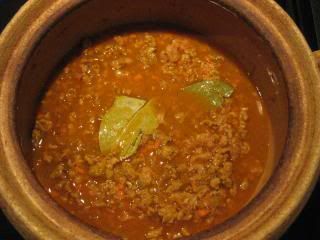 After pork was sautéed with vegetables and spices, vegetable stock, ketchup, and bay leaves are added and simmered for 10 minutes.
Generous amount of okra was added and cooked for 5 more minutes.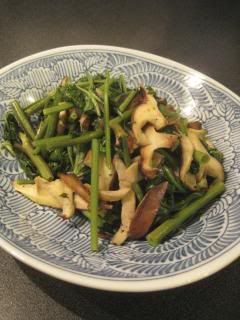 The curry was served with fluffy saffron rice, cooked in
double-lid donabe rice cooker, "Kamado-san"
, and boiled egg. As a side dish, I made simple sautéed water spinach ("kushinsai" in Japanese) and shiitake mushrooms, seasoned with shichimi tougarashi salt. Yes, it was the night of good heat. Wonderful delicious dinner!
Here's the recipe:
Ground Pork and Okra Curry
(for large-size soup & stew donabe, "Miso-shiru Nabe")
Ingredients:
4 servings
1 tablespoon each olive oil and butter
1 medium size onion, minced
1 clove garlic, grated
1 small knob ginger, grated
2 oz (60 g) carrot, cut into brunoise (tiny dice)
12 oz (360 g) ground pork
1 teaspoon cumin seeds
1 1/2 tablespoons curry powder
1/2 teaspoon cayenne pepper
1 teaspoon paprika
2 bay leaves
1 1/4 cups (300 ml) vegetable stock or chicken stock
2 tablespoons ketchup
6 oz (180 g) okra, cut into small bite-size pieces
1 teaspoon black vinegar ("kurozu") or rice vinegar
1 teaspoon fish sauce or soy sauce
1 teaspoon garam masala
salt and pepper to taste
Procedure:
In "Miso-shiru Nabe", heat 1 tablespoon each olive oil and butter over medium-low heat. Add the onions and sauté for 20-25 minutes until the onions are lightly browned.

Turn up the heat to medium. Add the ground pork and sauté until it's almost cooked through.

Add the garlic, ginger, followed by the carrot, and sauté for 1 minute. Add the cumin seeds, curry powder, cayenne pepper, and paprika. Continue to sauté until fragrant.

Add the bay leaves, stock and ketchup. Bring to a boil and reduce the heat to simmer. Skim as necessary.

Line the surface with a piece of parchment paper. Cover with lid. Simmer for 10-15 minutes.

Add the cut okra and simmer for another 5 minutes.

Add the vinegar, fish sauce, and garam masala. Adjust the seasoning with salt and pepper, if necessary.

Turn off the heat and let it rest for 5-10 minutes.

Enjoy with the freshly made rice, cooked with "Kamado-san", and boiled eggs. (optional)