Eggplant and Okra "Age-bitashi" in Donabe
During the summer, I eat eggplants almost every single day. It's no exaggeration. I eat eggplants all year round, but I just want to eat as many eggplants as possible during the hight of its season.
Eggplant, okra, tomato, corn...they are among my favorite summer vegetables and I almost never run out of them in my kitchen during the season.
One of my favorite eggplant recipes is "Age-bitashi" (揚げ浸し). It's basically eggplants are deep-fried, then marinated in a seasoned broth. Technically speaking, this dish is "Age-ni-bitashi" (揚げ煮浸し), which means the ingredients are deep-fried, simmered in broth, then marinated in it. This quick-simmering step is the key to make the extremely delicate "pillow" texture of eggplants. Also, because the skin of eggplants are scored at extremely narrow intervals, you can even cut them by gently pushing with chopsticks. Oh so lovely.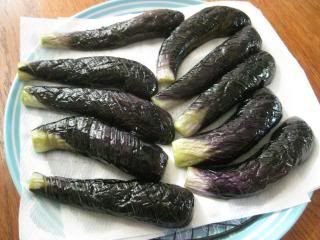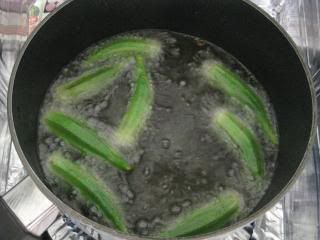 Make shallow incisions in 2 mm intervals on the skin side of halved eggplants. Deep-fry eggplants and okra separately. Make sure to drain excess grease from the vegetables by using paper towel.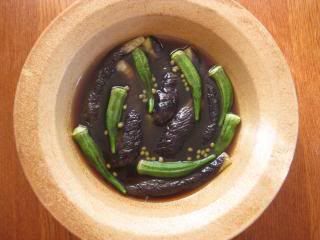 Meanwhile, make the broth by fortifying dashi stock with extra shaved dry bonito ("oi-gatsuo") and simmer with sake, miring, sugar, and soy sauce. Add the eggplant and simmer for 5 minutes. As soon as turning off the heat, add the okra and some cooked sansho pepper berries (optional). Let them rest for at least 30 minutes. You can enjoy this dish warm, or refrigerate it (in a different container) for 1 day and serve cold. I love it chilled the next day!
Here's my recipe.
Eggplant "Age-ni-bitashi"
(deep-fried, simmered, and marinated eggplant)
Ingredients:
(3-4 servings as an appetizer)
(broth)
1 1/2 cups (360 ml) dashi stock
2 tablespoons sake
2 tablespoons mirin
2 tablespoons raw brown sugar
1/4 cup (60 ml) soy sauce
5 g (about 1/2 cup) shaved dry bonito ("katsuo-bushi")
1 teaspoon blanched sansho pepper berries (optional)
5 medium-large size eggplant
8-10 medium-size okra
vegetable oil for deep-frying
Procedure:
In a donabe, combine the dashi stock, sake, mirin, sugar, and soy sauce. Bring to simmer and add the "katsuo-bushi". (You can use a large tea bag to infuse "katsuo-bushi".) Simmer for 3 minutes. Remove "katsuo-bushi" and gently squeeze out the broth from tea bag. Turn off the heat and set aside.
Cut off the stem from each eggplant. Cut in half lengthwise. Make shallow incisions on the skin side in 2 mm intervals. (You cut eggplants right before they are ready to deep-fry.)
Deep-fry the eggplants in the 350F (170C) degrees oil until just tender (2-3 minutes). Let them drain excess grease by using paper towel.
Deep-fry the okra until just tender (about 1 minute). Set aside.
Bring the broth back to simmer. While the eggplants are still very warm, add them to the donabe. Cover with lid and simmer for 5 minutes over low heat.
Turn off the heat and add the okra and sansho pepper berries.
Let it rest for at least 30 minutes and enjoy warm. Or, you can transfer the dish to a different container and refrigerate up to 1 day and enjoy chilled.
*If you can't find sansho pepper berries, you can substitute with sansho powder and sprinkle some at service.
Happy donabe life.