Konnyaku (yam jelly) is a very convenient ingredient to keep in a fridge, as a packaged konnyaku can keep long and can be used in a wide variety of dishes. It's close to zero calories and has a lot of fibers, so it's a good diet food, too.
This dish is called Kaminari Konnyaku...Kaminari means "thunder" in Japanese. The name of this dish comes from the cracking sound while sautéing the konnyaku and also the heat from the added chili pepper.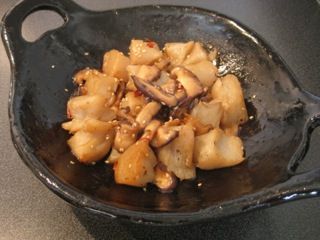 To make the dish,
Iga-yaki Toban
is the perfect cooking vessel. You can serve right in the Toban at the table, and the size is also just right.
Tear 1 piece (about 7 oz or 200 g) of konnyaku into bite-size pieces and blanch for a few minutes in boiling water. Then, in the empty heated toban (medium heat), add the drained konnyaku and sauté until the surface is dry. Add 1T sesame oil and 2 shiitake mushrooms (sliced) and continue to sauté until the mushrooms are soft. Make a mixture of 2T sake, 2T, and 1T miring and add to Toban. Continue to saute until the moisture is almost completely reduced. To finish, sprinkle some sesame seeds and sliced dry chili. Serve immediately.
With my quick Kaminari Konnyaku, I served wakame & shirasu fish rice, daikon & abura-age miso soup, hijiki stew, tamago-yaki, and crab and vegetable salad.
Happy donabe life.