With fresh corn and kabocha, I like making simple potage. It's a complete vegan dish and I make it with my
soup & stew donabe, "Miso-shiru Nabe"
.
After sautéing sweet onion, ginger and garlic in olive oil, cubed kabocha pumpkin is added, followed by vegetable stock. Once the broth starts simmering, corn is added (save some to add later).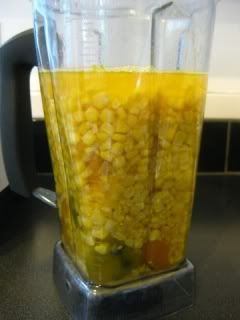 When kabocha becomes tender, the entire components in donabe are transferred to a blender (I like to use
Vitamix
for the very smooth result), and pureed along with some Saikyo miso (sweet white miso), shio-koji, and white pepper.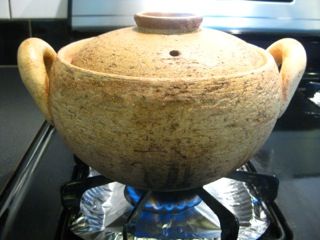 The soup is transferred back to Miso-shiru Nabe, and saved remaining corn is added and heated through. That's it. To serve, just drizzle a small amount of very fine olive oil and sprinkle some white pepper.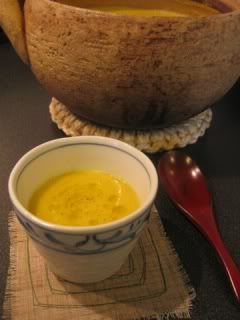 The flavor is so pure, sweet, and just wonderfully packed with corn and mild kabocha. You can serve it hot or cold. Here's my recipe.
Creamy Corn and Kabocha Potage
Ingredinets:
(serve 8 – 10)
1 tablespoon olive oil
¼ medium sweet onion, minced
1 clove garlic, minced
1 small knob, ginger, minced
1/6 medium kabocha, peeled and cut into cubes
3 cups (750 ml) vegetable stock
4 ears corn, sliced off from cobs
2 tablespoons Saikyo miso (sweet white miso)
1 tablespoon
shio-koji
(can be substituted with 1 teaspoon salt)
some white pepper
some very fine olive oil
Procedure:
In "Miso-shiru Nabe", heat 1 tablespoon olive oil and sauté the onion, garlic, and ginger over medium heat until the onion is very soft (about 5 minutes). Add the kabocha and sauté for 1 minute.
Add the vegetable stock. Turn the heat to medium-high. Bring to a boil, and reduce the heat to simmer.
Add all the corn except for 1 cup (240 ml). Simmer until the kabocha is cooked through (about 5 minutes). Turn off the heat and let it rest for 10 minutes.
Transfer the content to a blender. Add the miso, shio-koji, and some white pepper. Blend until smooth.
Transfer the blended mixture back to "Miso-shiru Nabe". Add the remaining corn and bring to simmer over medium-heat. Simmer for a few minutes.
Serve into individual soup bowls and with some drizzle of fine olive oil and sprinkle of white pepper.
*You can also transfer to a different container and refrigerate to serve it cold.
Happy donabe life.