I was in a mood for crab meat tonight.
So, I decided to make a donabe hot pot dish with crab, napa cabbage, and some bacon!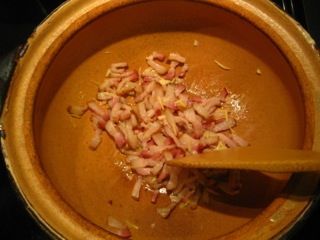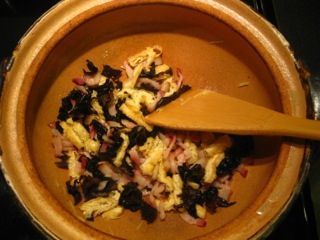 Bacon was sautéed with ginger and garlic. Wood ear mushrooms and abura-age (fried tofu pouch) slices are added.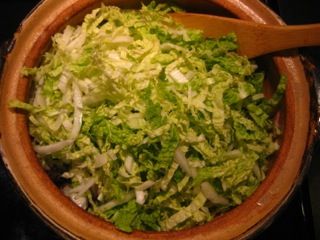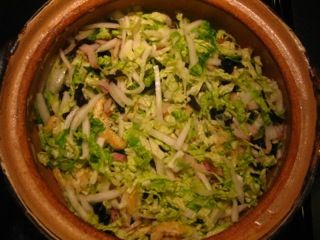 A big amount of napa cabbage was added, and sautéed until wilted.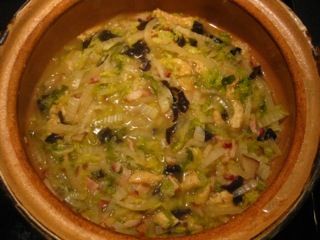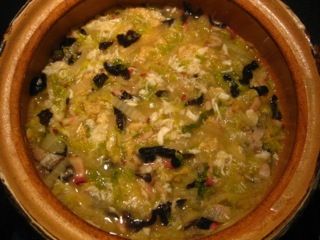 Vegetable stock was added and simmered for about 15 minutes. Then, crab meat was added and stirred.
That's about it, and really nice hearty stew was ready. The broth came out so flavorful. Napa cabbage was really soft and delicate. Crab added the nice pure flavor. The wood ear mushroom gave nice crunchy texture. This dish was great with plain donabe rice!
To make this dish, I used medium-size
classic-style donabe, "Hakeme"
.
Crab & Napa Cabbage Stew
Ingredients:
(4 servings)
3 slices (about 3.5 oz or 100 g) bacon, cut into thin strips
1 clove garlic, minced
1 knob ginger, thinly-sliced into shreds
1/3 cup wood ear mushrooms, thinly-sliced
1 rectangular piece, fried tofu pouch ("abura-age"), blanched and thinly-sliced
19-20 oz (about 500 g) napa cabbage, thinly-sliced
1/4 cup (60 ml) sake
2 cups (480 ml) vegetable stock
1 tablespoon oyster sauce
1 1/2 to 2 teaspoons light color soy sauce ("usukuchi shoyu")
6 oz (180 g) crab meat
2 teaspoons potato starch ("katakuriko") plus 1 tablespoon water
some black pepper
some thinly-sliced scallion
Procedure:
In the donabe, sauté the bacon over medium heat until it's mostly cooked through.
Add the garlic and ginger, and sauté until aromatic. (1-2 minutes.) Add the wood ear mushrooms and "abura-age" and continue to sauté for 1-2 minutes.
Add the napa cabbage, and stir until it's slightly wilted.
Add the sake, followed by the vegetable stock, oyster sauce, and soy sauce. Cover and bring to simmer. Simmer over medium-low heat for 15 minutes or until the napa cabbage is very soft. Add the crab meat and stir.
In a small cup, dissolve the "katakuriko" with the water. Drizzle in to the broth and stir gently until the broth is slightly thickened.
Adjust the flavor by adding a pinch of salt, if necessary. Sprinkle some ground black pepper and scallion and serve.
Happy donabe life.