With just two main ingredients...mushrooms and friend tofu pouch ("abura-age"), you can make a wonderful healthy one pot donabe hot pot meal.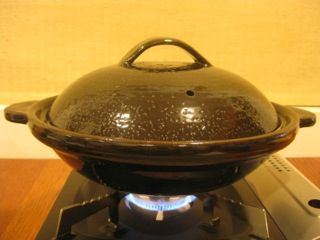 Just combine the ingredients in the donabe and heat.
Add some kabu or other green leaves right before serving.
With the remaining broth and components, I like making finishing ("shime") udon noodle course. So good.
Shojin Nabe with Mushrooms and Abura-age
Ingredinets:
2 1/2 C (600 ml) water
1/4 C (60 ml) sake
2 pieces 2" x 2" (5 cm x 5 cm) dry kelp ("dashi kombu")
2 tablespoons mirin
2 tablespoons light color soy sauce ("usukuchi shoyu")
4 medium shiitake mushrooms, cut in half
5 oz (150 g) shimeji mushrooms
2 rectangular pieces fried tofu pouch ("abura-age"), blanched and cut into 4 strips each
5 oz (150 g) Tokyo turnip ("kabu") leaves or mizuna leaves, cut into 1" long
1 serving udon noodles, optional
Suggested condiments: ground roasted sesame seeds, yuzu kosho paste, etc.
*I sun-dry mushrooms half to full day before use, so that the mushrooms will release more umami flavor to the broth.
Procedure:
In the donabe, combine the water, sake, and dashi kombu. Let the kombu soak for 30 minutes.
Add the mirin and soy sauce, followed by both kinds of mushrooms and abura-age.
Cover and set the donabe over medium heat. Bring to simmer.
Once the broth starts simmering, let it continue to simmer for 3-5 minutes until the mushrooms are very tender and the broth is richened. Add the kabu leaves and simmer for 1 more minute.
Serve with your choice of condiments. Leave half of the content, if you want to make udon noodle course.
Heat the leftover broth and ingredients over medium-heat. Add the udon noodles and simmer until your desired doneness. Serve with your choice of condiments.
Happy donabe life.